Planting a church in the forest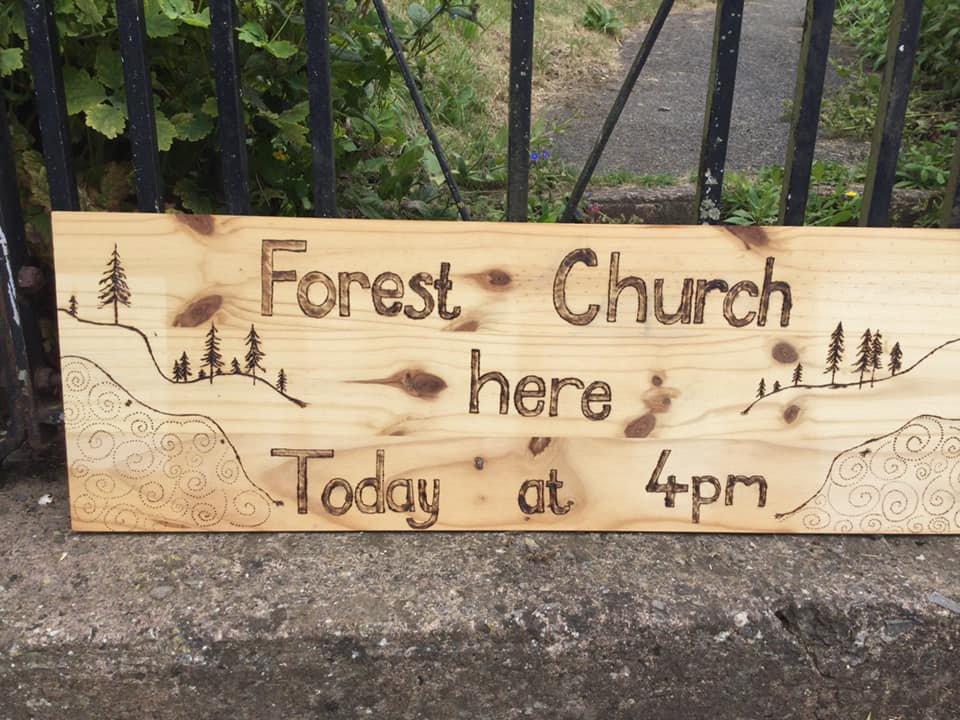 One church is swapping its pews for picnic blankets once a month as it takes to the great outside for a service about nature and creation. Here the Revd Gregor Lachlann-Waddell, assistant curate in the Mission Area of Bryn a Mor, explains the benefits of Forest Church.
"... So I will build my altar in the fields. And the blue sky my fretted dome shall be, and the sweet fragrance that the wild flowers yields shall be the incense I will yield to thee..."
by Samuel Taylor Coleridge
June 27 2021 will always be a Sunday of firsts for me. It was a first Sunday of many things. The day before, I had been ordained a priest into the Church in Wales and I was celebrating my first Sunday as a priest in my serving parishes. It would be the first time in my ordained ministry that I would be holding a service outdoors in front of families. It would be the first time Forest Church would be held at Cwm and that would certainly be a detour from your average Sunday service.
On the Saturday I had held my first communion service and in the morning, before Forest Church, I had done two communion services all in my robes and using structured liturgy. Yet, as a new priest, when I led the Forest Church service, without the robes, fanfare and without the pressure of getting the "liturgy" right (bear in mind this was my fourth time leading a Communion Service), I felt at ease and at home and I was in my element.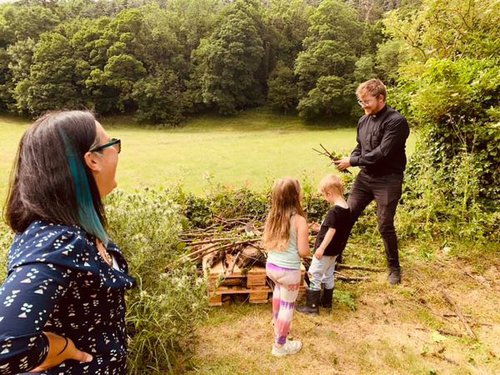 The idea of holding a Forest Church came about when my family and I had been walking in the snowy grounds of Cwm churchyard back in December. It has been a place of worship for more than 800 years and legend has it that the forest around Cwm has ancient wells and springs which the saints would use for healing. As it happens, in woods behind the church, there is a well which has crystal clear water. My wife and I both felt a spiritual connection with the place and the view over the valley is to die for.
I had been looking at trying something different in terms of worship and I felt connected to the beautiful scenery around the Mission Area that I serve. It is a beautiful part of Wales where the hills meet the sea, which is apt for the name of the Mission Area in St Asaph Diocese: Bryn a Mor.
My family and I are pretty much a "green" family. We enjoy nature, conservation and taking care of the planet. Before pursuing my calling in the Church I had been a recycling advisor and a binman, and taking care of the planet has always been part of what I do. I will always believe that caring for creation is a fundamental part of what God calls us to do as Christians. He made us stewards of this earth and as stewards it is up to us to take care of his creation.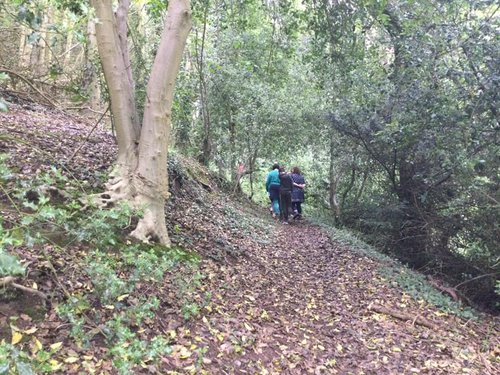 For a few months I had been planning on holding a Forest Church service. It would be different but it would offer to many people a spiritual home that wasn't necessarily in a church building or a traditional church service. It is a service that welcomes everybody, is all age friendly (you can bring your pets too!), but also a service that focuses on environmental issues and creation.
After the monotony of lockdowns and struggling to gather physically as a church, I felt it was time to try something different, to create a new home of worship. I believe that there are many people out there who may be searching for God, searching for a place where they can connect with him and with nature, searching for a place where you can get your children out of the house, to run around and not have to worry about the noise. A place where everyone can gather and be in fellowship as a family of God.
I have been lucky with the weather so far and my first two services have been in glorious sunshine, with us sitting on picnic blankets. I keep my eyes on the weather, just in case we have tornados and plans need to change and I have to ask people to bring umbrellas and wellies. I hope to carry on in the winter, holding the service at 2pm, instead of 4pm and perhaps having a firepit. There is a certain peace about the churchyard and it is lovely just to sit there and listen to the birds and take in nature.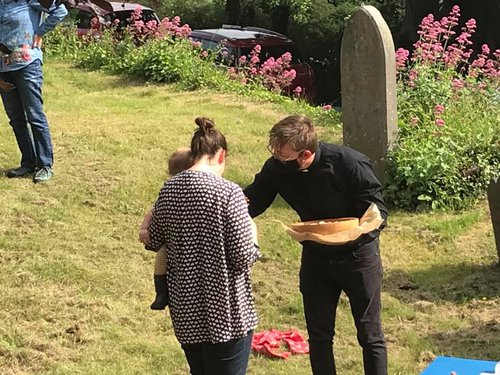 The service is structured. Once everyone is gathered I open in prayer and explain our activities - there will be something for them to go and do. We will then have a story from the storyteller Bible based on the theme of our activity. I have a mini-talk with the children and then I usually hold a short "rustic" eucharist with real bread and wine (within Covid regulations).
Currently, in my Mission Area I am working towards getting all the churches certified with an Eco Church award. This is aimed at getting our churches and communities to become more eco-friendly. In our Mission Area we have four bronze and two silver awards so far, which is testament to the hard work and dedication of the church communities.
With this in mind, I hope to ensure that all my Forest Church services come with an ecological message and fun activities that help safeguard creation. At the same time, I hope to create a new spiritual experience for people who feel connected to God out in the great outdoors. Cwm Church is a pilgrim church but its status as being a sustainable building is being questioned. My hope for Cwm Church and my daily prayer is that whatever happens to it, the land and the churchyard can, and will ,remain a place where all of God's people can meet, worship, pray and look after God's Creation.
"He leads me beside still waters, he restores my soul." Psalm 23:2-3
I usually hold Forest Church on the last Sunday of every month at 4pm in Cwm churchyard. Everyone is welcome.