I have a 'joyful sense' Church vision is being revived - Archbishop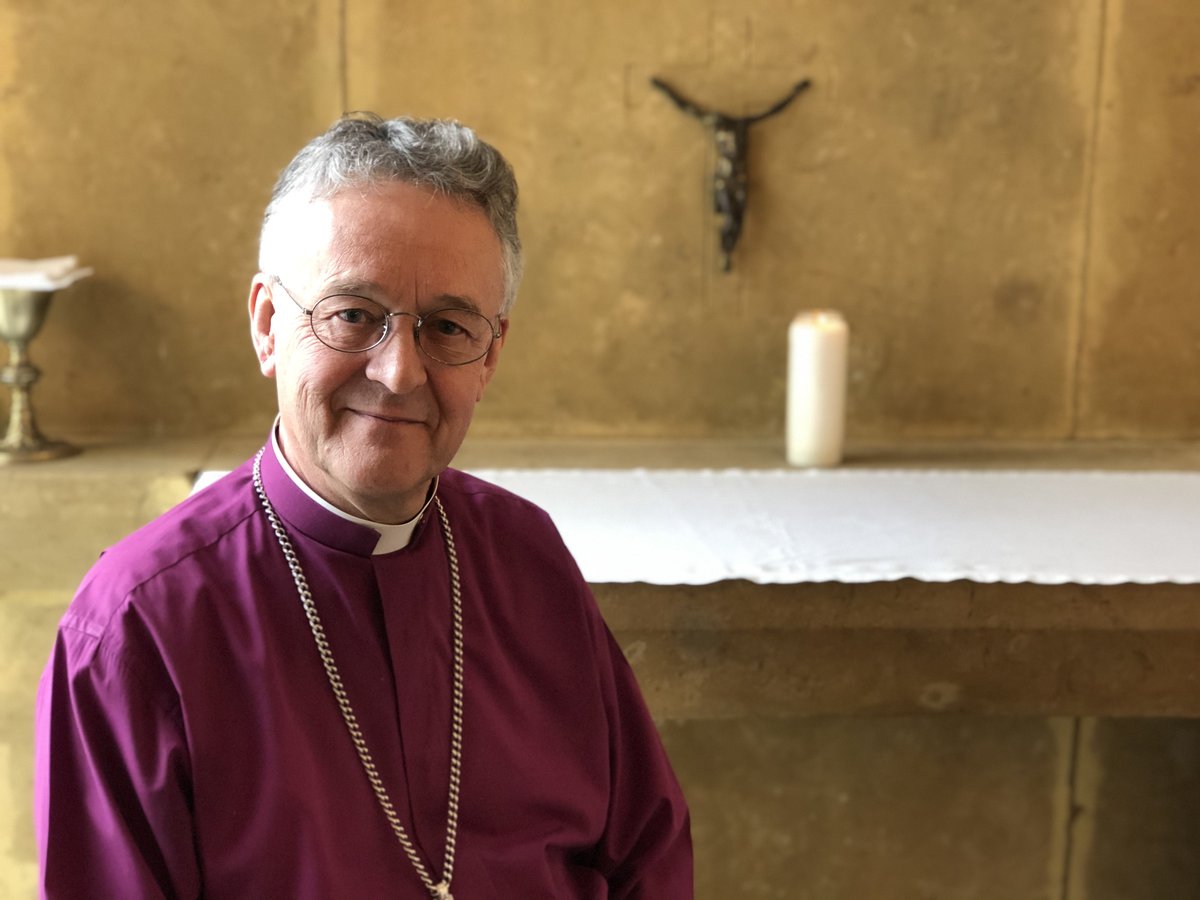 The Church in Wales is on track to be more inclusive, better organised and equipped and more focused on outreach, said the Archbishop of Wales in his final address to members today (April 15).
While acknowledging there was still much to be done, the Archbishop, John Davies, who retires on May 2, gave thanks for progress that had been made.
Delivering his Presidential Address to the Church's Governing Body, Archbishop John said he had been "immensely grateful" and "privileged" to have served in the Church for most of his life and on the Governing Body for more than 40 years - as a layman, a deacon, a priest, a bishop and, for the past four years, as Archbishop.
Referring to a vision for the Church set out at the time of its disestablishment more than 100 years ago by Lord Justice Bankes who helped frame its first Constitution, Archbishop John said that, while there had been failures, there was also a "joyful sense" of the vision being revived.
He said, "None of us ever know whether our words, our actions, our images have encouraged or awakened a single soul let alone a whole church. But as I now come to the end of this address at this, my final meeting of the Governing Body, I give thanks for so much that is beginning to seem more possible, even more probable, as set out in John Bankes's vision for our part of Christ's church here in Wales."
His hope, said Archbishop John, was that the Church "might grow in an ever-deepening, radically inclusive love for each other and for those not yet a part of us."
Archbishop John's Presidential Address
Unless you are familiar with the history of the Church in Wales and, more particularly, the debates surrounding its disestablishment and the framing of its first Constitution, the names of John Sankey, John Eldon Bankes, Richard Atkin and Frank Morgan might not mean a great deal to you. The first three were highly distinguished judges who, with Morgan, the first Provincial Secretary, made immense contributions to those debates and the subsequent process of disestablishment. As a footnote for those who are avid readers of the Constitution – and there are some! – the capital initials JS which appear in the wording of the declarations required to be made by members of, for example the Governing Body, the Representative Body or a Parochial Church Council are those of John Sankey, a kind of epitaph or testament to his personal labours in the original drafting.
However, it's to some words of John Bankes that I want to turn your attention.
In a speech made at the 1917 Convention at which the future, post-disestablishment, order of the Church in Wales was discussed and agreed, Bankes, at a time of massive upheaval, uncertainty and need – bear in mind that the Convention was taking place whilst the First World War was raging - set out his hopes and his vision for what that Church might be, and some of the characteristics which it ought to embody. From papers circulated in advance of a joint meeting of their members, those on the Bench, the RB and the Standing Committee will, already, be familiar with some of what Bankes had to say – good things, visionary things, worth hearing again, and which I now paraphrase.
Bankes declared that he hoped for:
A Church that would be truly national, that will adapt itself to the needs and requirements of all, and to the ever-changing conditions under which her work must be done;
a Church whose sympathy, toleration and enthusiasm will draw to itself all people and enshrine itself permanently in the affections of the inhabitants of Wales;
a missionary Church that will realise that the great bulk of our population never enter any place of worship at all, and live their lives entirely untouched by any religious influence. So, it will be a Church that will direct its energies and resources at least as much to those sheep who need a shepherd, as to those already within the fold;
a tolerant Church which will realise that all people are not cast in the same mould, and will allow considerable latitude for differences of views and differences of opinion, while at the same time laying down clear and definite rules as to what is and what is not permissible;
a Church which is not divided against itself, and in which strife and bitterness, are unknown, and in which people High and Low, Welsh and English may kneel down together, and thank God for a Church large and broad enough to contain them all;
a Church in which due provision is made for training for the Ministry, and in which the clergy are assured of proper and sufficient incomes;
a Church in which the laity, both men and women, have a defined position, and in which the laity accept to the full the responsibilities of that position.
Bankes's view of the Church in Wales was that it should be faithful to Wales, adaptable and agile, properly resourced, broad in its theology, traditions, opinions and practices, outward-looking and welcoming, gender-equal, ethnically equal, where clergy were appropriately and sufficiently paid and where the role of the laity is fully accredited and valued.
Reading Bankes's words now, some 40 or so years after I first became a lay member of the Governing Body and as I now prepare to retire after nearly 36 years in stipendiary ministry, I have a sense that we are still some way from completing either the task or the journey that he envisaged, and that we have not always been sufficiently committed to making the amount of progress which we might.
It is only comparatively recently, in terms of our 101-year history, that we have begun to take concrete steps to fully grasp that vision so comprehensively set out in 1917. Although, with some welcome honesty, and partly because a variety of circumstances have made it absolutely essential, we have certainly begun. Let me particularly recall, from fairly recent times, our meetings in September 2016 – the 'heavy heart' debate - and April 2017 – the overt commitment to evangelism as our core business – our facing the fact that we had sometimes been too easy-going in our approach, failing to keep alive the vision that Bankes so clearly articulated. From some way in the more distant past, I can recall Canon Enid Morgan at a Governing Body meeting during her time as Director of the Board of Mission, challenging us to walk the walk and not just talk the talk. As someone who had, by 2016, been a Diocesan Bishop, a leader, for 8 years, I have to count myself partly responsible for that failure to get Bankes's vision further along the road, and of talking but not always walking.
I have a sense of some real frustration that some of our internal governance structures and procedures remain, in places, unnecessarily clumsy, complex and slow, and that some of them are such that they can be and have been the cause of division and hurt as well as potentially stifling of initiative and progress, and many of us recognise that there is some duplication which results in poor use, even waste, of resources. Such things are now, I can say with some pleasure, not only being recognised, but are being addressed, and may the pace of their being addressed continue to quicken.
In addition to such evident internal problems and challenges, there have been more contemporary and deeply troubling ones with an additional, external dimension, which have had to be addressed urgently and fully, among them our approach to safeguarding. Although much has been done to improve our policy, procedures, practice, guidelines and training, there is much, much more to be done. This on-going work will soon be led by a new Director of Safeguarding who has been selected following a series of interviews last week. There have been too many instances in the past when we have failed in this important area, and this has caused reputational damage and, much more shamefully, has had devastating consequences for victims and survivors of abuse. To repeat my words from a submission we have made to IICSA in recent weeks, they have my heartfelt sorrow for those instances where the Church in Wales has failed them.
But although our journey has not have progressed as far as might have been expected, and although there have been instances of failure there are some real positives and a joyful sense that Bankes's vision is being revived. For example:
There must be joy that we are ready to recognise the reality of the weakness of our position and where we actually stand in relation to our impact upon Wales as a nation and upon its people.
There must be joy that although we are still richly resourced in terms of our material, human and financial, we are recognising that our outreach could be better focussed, better employed and better directed, and that the ordained, lone ranger model of ministry doesn't bear scrutiny when set alongside the model of shared gifts, pooled talents and working together. I am especially pleased that the trustees of the Representative Body agreed in 2018 to direct a significant sum of money to the funding of imaginative and credible evangelism projects in the dioceses, the outcome of which will, I fervently hope, be the putting down of the roots of some sustainable long-term growth.
There must be joy that both the leading of worship and the practice of pastoral care are no longer confined to those in clerical collars, and joy that our forms of worship, sacramental or otherwise, reflect a growing richness and variety and are recognisably more attractive and accessible. One note of caution though – the most theologically correct, the most beautifully composed and the most carefully targeted bit of modern liturgy in the hands of a poor practitioner, will not do the job for which it is intended. We have an increasingly rich treasury of liturgical worship resources, old and new on which to draw. And, as I have said in the past, those who are already trained for the Kingdom's ministry or who are in training for it, can and should carefully employ from that treasury either old or new as each particular situation demands. And – and this is key - we must ensure that those into whose hands such treasures are placed, are or become, through careful discernment and rigorous, bespoke training, competent and confident practitioners. Recognising that achieving this goal must take proper care and sufficient time and, on the day when the Church remembers St Padarn, I am pleased that our training institution has become an integral part of our provincial structures. It must be properly supported across the province, appropriately resourced and, with careful oversight, enabled to deliver what the Church asks of it.
There must be joy that we are awakening to the need, through better focussed and accessible teaching and study, to turn more and more habitual attenders or gatherers into reverent worshippers and growing disciples who are more deeply acquainted with and knowledgeable interpreters of the fundamentals of our faith, its practices and its scriptures, equipped and ready to go and tell others, rather than taking church life for granted while simply waiting for those others to come – they won't, because we can seem too introvert and uninteresting, and, frankly, a bit odd.
There must be joy that even some meetings, often the rather diverting and time-consuming bane of our lives, are growing in purpose and potential - but not necessarily all of them. I record with hope that the emerging pattern of joint meetings of the Bench of Bishops, your Standing Committee and the Trustees of the Representative Body is one example of a meeting that is to be welcomed. Welcomed, that is, as long as it results in real and growing trust, growing common evangelistic purpose and growing honesty of commitment to work together for that purpose. Meeting for the sake of doing so or for the sake of appearing to do the right thing won't serve any legitimate purpose.
There must be joy that we have a place at the table in a variety of places in the public square where issues such as environmental danger, social justice, poverty, medical and social ethics and other pressing issues are debated and discussed, a place at the table not because we want to lecture others about what they should be doing, but because we can contribute credibly, compassionately and carefully in the name of him who came that all might have abundance of life.
There must be joy that we admit the hurt we have caused to and are now ready to reach out to some in our midst and in our communities who have been made to feel unwanted, excluded and unwelcome because we have not understood them, talking about them instead of to them. They must not be shut out any longer.
Those who, as Archbishops have, over the years, had opportunities to address the Church in Wales through its Governing Body, have employed a variety of images and metaphors to attempt to encourage or awaken. I count it a privilege and a responsibility to have had such opportunities. I remind you of a few of the images which I have used:
We cannot afford to stand on the riverbank, gazing longingly across the river to the 'land of pure delight' on the other side, but paralyzed by the fear of starting the journey by putting a foot in the water.
Those who play even the smallest part in a story are necessary to its completeness – the innkeeper in the parable of the Good Samaritan for example. They're needed, and that they must be valued in the narrative of our story and in the harmonies of the singing of the song of the Gospel.
The most meagre offering of fish and bread were immensely nourishing put into the right hands, and we must place our rich not meagre resources into the same hands and in the same trust.
Take the yoke and the cross. Be ready to be guided and be ready to give.
Refresh and renew our interpretation of the song we sing to the Lord so that our worship and life are better understood and accessible.
The thread that links all of these images is a call to all of us, bishops, clergy, laity to step out, to step up, and to step across divides, remembering that, although we need institutional frameworks and ways of working to enable us to function, they must not be untouchable, unchangeable inert idols. They exist, and must have, as their fundamental reason for existing, enabling us to undertake and fulfil as best we can, with proper resource, firm commitment and clear direction, Christ's Great Commission to 'go and make disciples'. We cannot seek to do this - to step out, step up or step across - alone. But, as Paul urges in the Letter to the Ephesians, we must commit doing it together, strengthened in our inner being with power through the Spirit, Christ dwelling in our hearts through faith, rooted and grounded in love. This is what gives our church's frameworks and their ways of working their meaning, and it has to be their DNA.
I have been immensely grateful to have had the privilege of serving the Church in Wales as a layman, a deacon, a priest, a bishop and, latterly as your Archbishop. None of us ever know whether our words, our actions, our images have encouraged or awakened a single soul let alone a whole church. But as I now come to the end of this address at this, my final meeting of the Governing Body, I give thanks for so much that is beginning to seem more possible, even more probable, as set out in John Bankes's vision for our part of Christ's church here in Wales. And my prayer and hope for you and for the whole Church in Wales springs from those words of St Paul, that we might grow in an ever-deepening, radically inclusive love for each other and for those not yet a part of us. If that might be so, Christ will accomplish through every one of you more than any of us can ever ask or imagine.
To him be glory in the Church and in Christ Jesus to all generations, for ever and ever. Amen.