Celebrating Open Table Network ministry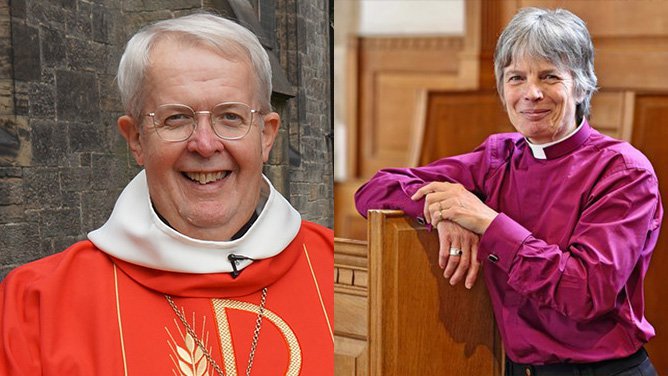 Two bishops will host a service to celebrate ministry among the LGBTQIA+ community this weekend.
The Bishop of St Asaph, Gregory Cameron, will be joined by the Bishop of Monmouth, Cherry Vann, at a special Open Table Network service in St Deiniol's Church in Hawarden on Saturday 6 November.
The communion service will be led by Bishop Gregory with a reflection given by Bishop Cherry, who is the Church in Wales' first lesbian Bishop and the patron of the Open Table Network. The service will be followed by lunch and an opportunity to chat with both bishops.
The Open Table Network is a growing partnership of Christian worship communities which welcome and affirm people who are Lesbian, Gay, Bisexual, Trans, Queer or Questioning, Intersex, & Asexual (LGBTQIA).
Bishop Gregory says, "I think the church has a particular duty to reach out to those who, for whatever reason, may feel unwelcome in the church, diminished, rather than encouraged, by Christian faith and practice. Open Table is an opportunity, especially for the LGBT community, to be affirmed as God's children, for us to celebrate the blessing of God which is God's will for us all and that is without exception."
In a message to the Open Table Network, Bishop Cherry, says, "I want LGBTQIA+ to hear and to know what I've come to know in the depth of my being. That is, that we are all precious children of God, loved and cherished for who we are. God wants us to thrive…not to live in fear and self-loathing… and I want the church to be a place where we can all feel welcome and accepted for who we are, which is why I'm so pleased to be patron of Open Table. Let's work together to create a church that truly reflects God's love for us all."
Saturday's service is being hosted by the LGBT chaplaincy in the Diocese of St Asaph, led by the Revd Sarah Hildreth-Osborn, based in Llanrwst. The chaplaincy was launched five years ago to support LGBTQIA+ people across the diocese and the numbers attending the monthly Open Table services on Saturday mornings has increased steadily.
Sarah says, "I'm delighted to be hosting this special service with two bishops from the Church in Wales. Earlier this year, the church took an important vote to support this community, by permitting the blessing of same-sex relationships. We look forward to celebrating together on Saturday."
The service is taking place on Saturday 6 November at 11.30am in St Deiniol's Church in Hawarden, which is part of the Diocese of St Asaph.