Vicar who survived Covid publishes hymn book to inspire others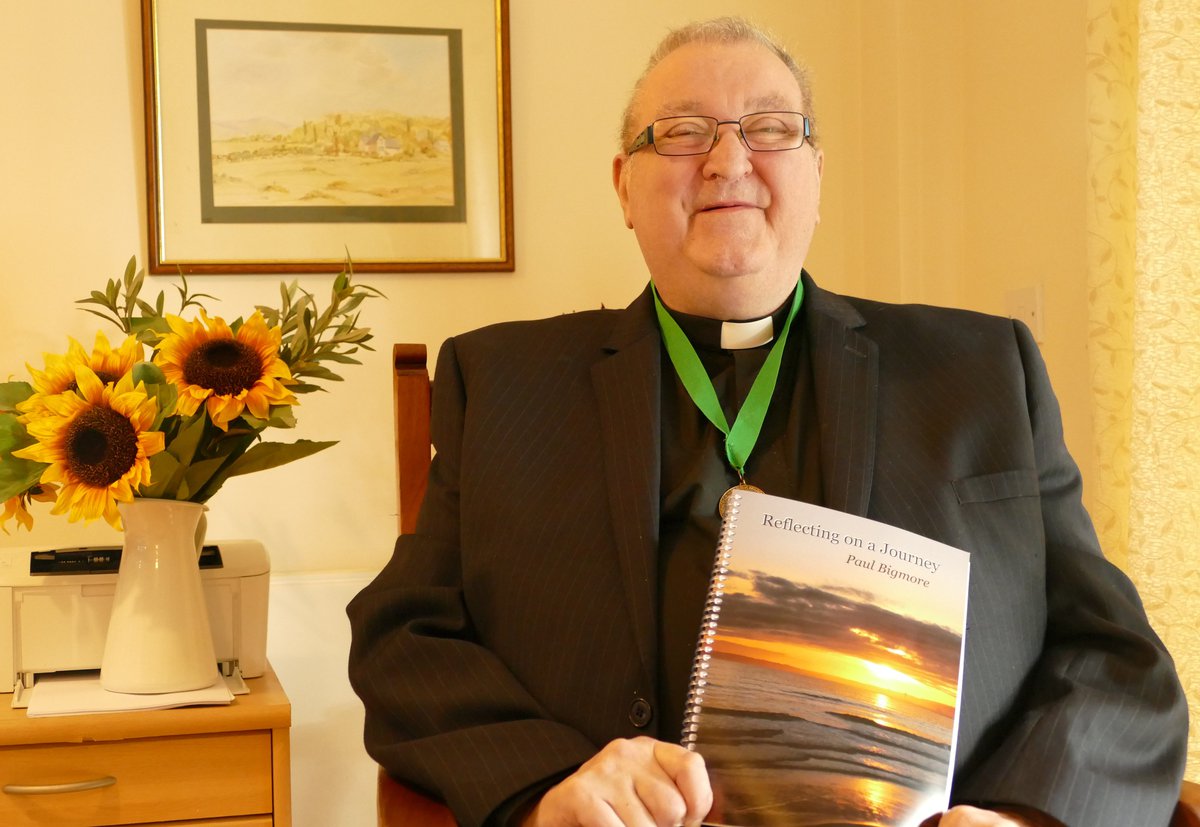 A retired vicar, who almost lost his life to Covid, is publishing a new hymn book in the hope it will inspire others facing difficult times.
The Revd Paul Bigmore, 64, spent three weeks in hospital last year fighting for his life after contracting severe COVID pneumonia. He pulled through thanks to the care and dedication of hospital staff but still suffers considerable health issues.
His new book, called Reflecting on a Journey, is his fourth book of hymns and includes a "Covid" hymn. Dedicated to all who have died of Covid throughout the UK, the book will be launched by the former Archbishop of Wales, Dr Barry Morgan, at Fr Paul's hometown of Port Talbot, in a service at St Mary's Parish Church, on Sunday, October 24 at 3pm. A blessing will be given by the former Archbishop of Canterbury, Dr Rowan Williams.
Among Paul's new hymns are fresh verses for traditional, much loved hymn tunes. These include Christmas carols, such as Away In A Manger and Hark The Herald Angels Sing, and Welsh favourites such as Maesgwyn and Gwahoddiad.
"I hope this book, Reflecting on a Journey, will heal the wounds of broken people by singing with our hearts to God in prayer," says Fr Paul, who pioneered the successful Music in the Community initiative to revive community singing in the Rhondda Valley during his years serving as vicar of Ynyshir.
"It has been a dreadful time for everyone – we have all suffered in some way because of the pandemic. Hymn-writing is my great love and passion and this book is my way of thanking people for their kindness to me and offering them hope, love and light as they too face difficult days."
The foreword to the book is written by the award-winning composer Thomas Hewitt Jones. He pays tribute to Fr Paul's work over the decades to revive the hymn tradition.
"Despite dwindling congregations in today's ever-changing and challenging world, hymns are equally and arguably ever more relevant than ever before, and it is extremely fitting that Father Paul Bigmore's tireless and valiant work to revive the great hymn tradition has come to the fore once again. Fr Paul has become a great friend and support over the last decade (as he has selflessly to so many) and I have watched in awe as he has single-handedly revitalised and reinvigorated the Welsh hymn-singing tradition during that time.
"It is thrilling that his latest work is published in this format which can be sung, appreciated and enjoyed by future generations, celebrating the best of traditional Welsh hymnody with a sprinkle of Paul's own customary contemporary freshness while spreading an inherent message of humanity, love and sheer joy - qualities which are sorely needed around the world at this present time."
To order Fr Paul's hymn book, Reflecting on a Journey, email him at gbigmore@btinternet.com. The book is priced at £8.95 (excluding postage and packing).
The Covid hymn - Giovanna
Lord graciously come
With arms outstretched
To heal the soul from pain.
And in this world of troubled minds
Christ's loving hands will guide.
In times of torment and of fear
The path of life has changed
With God alone and faith secure
The cross of Christ proclaimed.
Give faith kind Lord
In times of need
To all who search for you.
And in those moments of despair
Christ's faithfulness will sustain.
The light of Christ
Shines through the storms
And calms the waves of life
Let peace return, good Lord we pray
To all who dwell in you.