Famous Bible translator returns to his church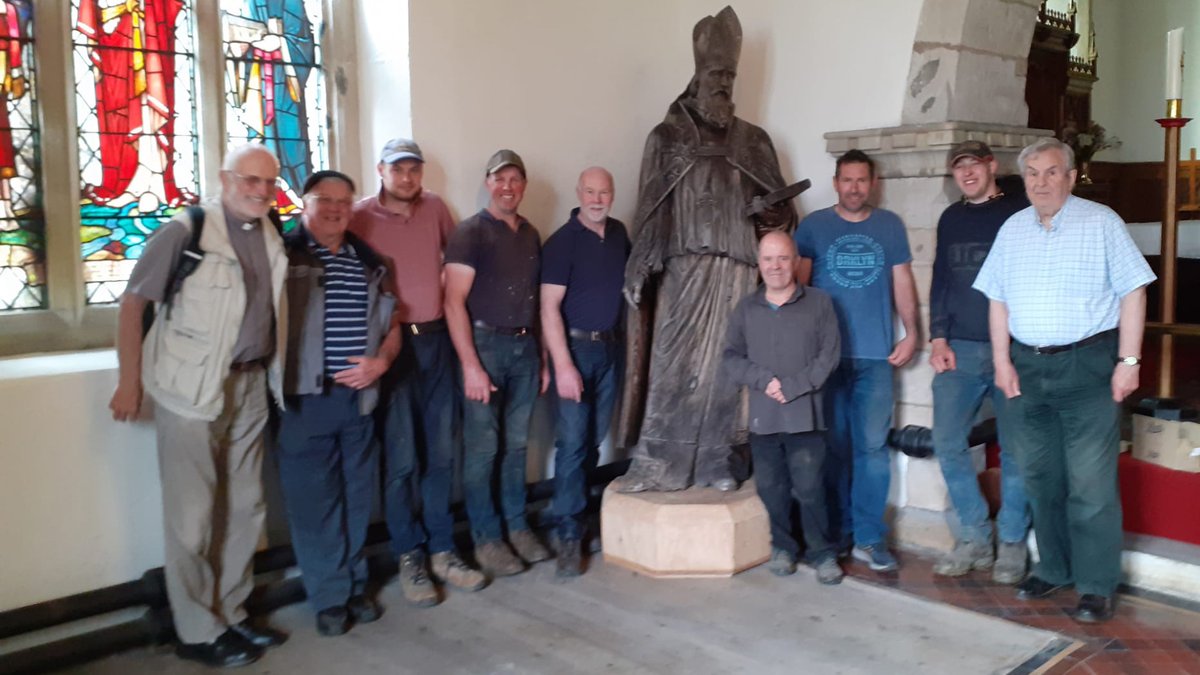 A carved oak statue of the translator of the Bible into Welsh has gone on display in his church in Powys.
Bishop William Morgan was Vicar of Llanrhaeadr Ym Mochnant when he began his translation of the Bible, claimed as the most important book ever published in Welsh and credited as saving the Welsh language.
The seven-foot statue, which had been outside the Public Hall at Llanrhaeadr, was moved inside the Church of St Dogfan by a team of local farmers, supervised by the sculptor Barry Davies (pictured with the statue below).
The statute was commissioned 10 years ago as part of a lottery funded project in the village, but weather conditions led to a decision to find an indoor home for Bishop William.
The current vicar of Llanrhaeadr Ym Mochnant, Prebendary Norman Morris, was on-hand to welcome the installation. He said: "We were very keen to offer a new home to the carving of Bishop William Morgan. This is the church where William Morgan was parish priest and where he translated the Bible into Welsh in 1588.
"It took us six months to get all the correct permissions in place, but I'm delighted the carving is now here. We hope it will encourage visitors to the church to find out more about William Morgan and the amazing story of the bible translators, most of whom came from across north Wales."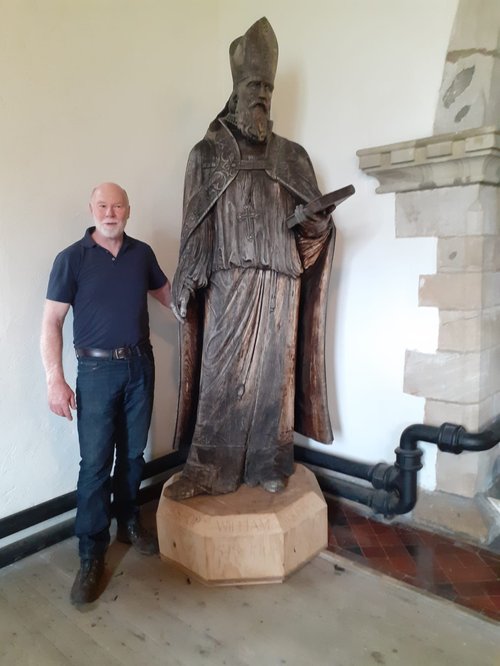 The statue was brought by Loadall from the Public Hall to the west door of St Dogfan's Church before being wheeled up the aisle on a double trolley designed to navigate the corners. The seven farmers then positioned the statue on a new wooden plinth and bolted it down. Preb Norman Morris added: "We are very grateful to the team of local farmers who expertly and carefully carried and wheeled the seven-foot carving into place. We look forward to it being a long-lasting feature at St Dogfan's."
William Morgan became vicar of Llanrhaeadr-ym-Mochnant in 1578, where he started translating the Bible. In 1579 he became rector of nearby Llanfyllin, in addition. His translation work, assisted by contemporaries such as Richard Parry and John Davies, stands as a monument in the history of the Welsh language. For the first time people in Wales could read the Bible in their first language. It is estimated that 1,000 copies of the original 1588 Bibles were printed, although today only around 24 copies are known to survive. His 1620 edition, slightly amended to correct printing errors, became the standard Welsh Bible until the 20th century.
The Church of St Dogfan in Llanrhaeadr Ym Mochnant is close to The Pistyll, a waterfall designated as one of the seven wonders of Wales. At 240 feet (80 metres) it is the tallest single drop waterfall in the UK. The Church is part of the Living Stones Trail which offers a wealth of hidden treasures in 15 remarkable churches and chapels across three valleys of North Montgomeryshire. You can find out more at https://living-stones.info/en/
The Church of St Dogfan is in the Tanat-Vyrnwy Mission Area, one of the 19 Mission Areas in the Diocese of St Asaph