Church plays Santa to help families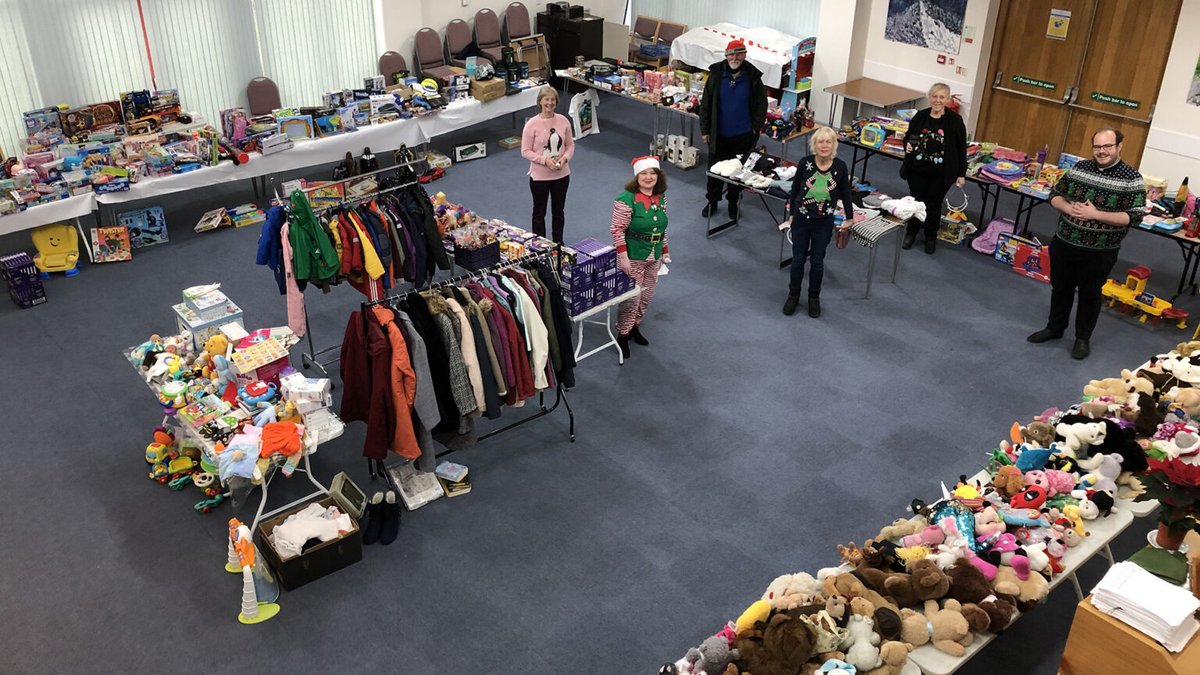 Christmas presents to help hundreds of families in Holywell have been collected and are being distributed by St Peter's Church in the town.
The £2 Christmas Club is offering people the chance to pay just £2 to choose a number of presents for children in their family.  Gifts have been donated which range from Bluetooth speakers to large teddies, from dolls houses, to board games and even an Xbox.  All volunteers and visitors for the Christmas Club wore face masks, social distancing was enforced and a one-way system in and out of the church was implemented.
Since the Coronavirus pandemic began in March, the church has been running a weekly £2 Food Club which enables people to pay £2 for up to 15 items of food and hygiene products. Some weeks, more than 80 families attend, and well over 1,000 people have made use of the food club so far this year. Thanks to people's generosity, the £2 Food Club is going to continue until the end of March.
The recently appointed Vicar of Holywell, Father Dominic Cawdell OGS said, "We're hoping the £2 Christmas Club helps families who are struggling this year. We know Coronavirus has had a devastating impact on people in the town and we at St Peter's are doing all we can to offer practical support.
"We want St Peter's to be at the heart of our community, and all we're doing this Christmas is a real community effort. Donations of money and gifts have come from individuals, businesses and other groups from across the local area, meaning we're confident we can support all the families who come to us. We've been in contact with local schools to ensure we reach the people most in need of help and support this Christmas."
St Peter's is also running a free prize draw to award six Christmas Hampers to families in need.  People have been invited to nominate a family and six names will be pulled out of a hat on Sunday 20th December to have "Christmas Dinner on St Peter's" this year. So far, they've had over 150 nominations, and more come in every day.
Throughout the Christmas holidays, the Mission Area will also be running a holiday hunger club to ensure children do not go hungry. They're hoping to have a gazebo on Holywell High Street, where children can call to collect a voucher for food from a local café or restaurant.
Father Dominic added, "So much closes down over Christmas and with schools on holiday, many children will be missing out on two regular meals a day, even with the support given by the Welsh Government. By working in partnership with local businesses, we can support both our young people and the wider community."
The £2 Food Club at St Peter's is open every Thursday from 12 until 1pm. On Christmas Eve, there will also be an all-day Crib Service running in the church and families at the Food Club will be able to pass through the Crib Service on their way home for Christmas.
St Peter's Church in Holywell is part of the Estuary and Mountain Mission Area in the Diocese of St Asaph