Bells ring out as Canon Douglas celebrates his 100th birthday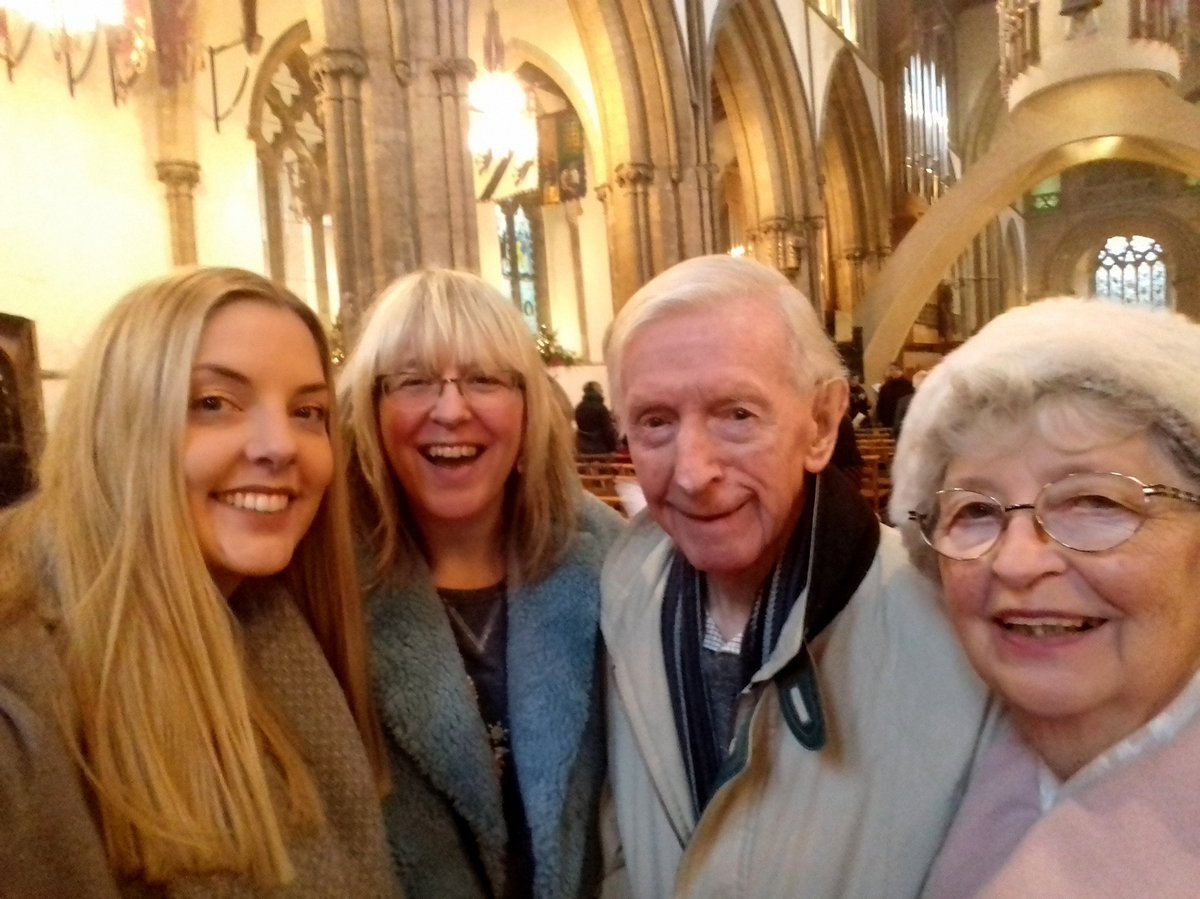 Canon Douglas Davies is celebrating his 100th birthday in lockdown today (May 15) but family and friends have worked together to make sure it doesn't spoil the celebrations.
Douglas was vicar of Treboeth in Swansea from 1963 until 1990, when he retired, and served as a Canon at Brecon Cathedral and chaplain of Ty Olwen Hospice in Swansea.
The planned party had to be postponed but parishioners from St Barnabas Church in Waunarlwydd, where he now lives with his wife of 63 years Patricia, had an early start decorating the couple's garden with bunting and balloons.
"The vicar of St Barnabas, Canon Ian Davies, will ring the church bells 100 times at noon," Douglas's daughter Cathie said.
"That'll be the cue for parishioners to get in their cars and do a drive past. They'll be waving and wishing him happy birthday through their car windows and a cake and cards will be delivered."
There will also be a musical tribute later today, including a rendition of Douglas's favourite song, and video messages from family and friends.
"One of the men from church, Antony Bidder, has got an amazing voice and is in male voice choirs, and he's going to stand at the top of the steps of my dad's house and sing Happy Birthday and my dad's favourite song, which is Myfanwy," Cathie said.
"And we asked our friends and relatives to record a video of themselves sending him a birthday message and we've collated these for him to watch today.
"I've been so humbled by what he means to people. To me, he's my dad and I love him and he's fabulous, but, when you hear how he's touched other people's lives, it's really humbling to hear that. It's been an amazing experience for all the family."
Douglas was ordained deacon in 1946, and served at Christ Church in Sandfields, Swansea, moving to All Saints', Oystermouth. In 1957 he became vicar of Llangynllo and Bleddfa, where he remained until 1963, when the couple returned to Swansea.
He said: ''I can't believe I am 100 years old. God has been very kind to me - calling me to be a priest from my childhood, and giving me a lovely wife and family. I have met hundreds of people and thank them all for their kindness, love and support. I have had a very happy and rewarding life. Thank you Lord - what else are you planning for me to do for you before I go hence?''
Archbishop John said: "My contacts with Douglas have shown him to be both a gentle and kindly individual and, despite his many years of retirement, also a faithful priest of God and His church. I have sent him my warmest congratulations on reaching 100 not out and, in doing so, have also thanked him for his faithful and devoted ministry over the years, and for the life of discipleship which he has lived and continues to live."
Later this month Douglas will be following in the footsteps of Captain Tom Moore, although his original fund-raising plans have had to change.
"My dad wanted to do a fundraiser for the USPG for his birthday and we had organised an event on May 30 called 100 years, 100 laps, 100 people - where friends and family would come to Dunvant rugby ground in Swansea and walk as many laps as they wanted to with dad walking the 100th lap," Cathie said.
"This too has been cancelled but we have decided to organise the 'Isolation Amble' instead. We are asking people to do a lap of anything - their garden, their lounge, their chair etc – at 2pm on May 30 and to log how many laps they have done on our event Facebook page so we can make sure 99 have been done and to get dad to do the last 100th lap."
Douglas is aiming to raise £2,000 for USPG and you can donate to the appeal at www. justgiving.com/fundraising/fatherdavies100th