Bishop of St Asaph
The Right Reverend Gregory Cameron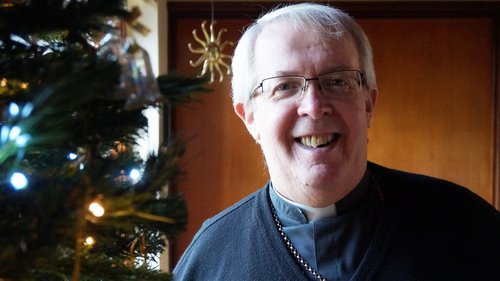 Gregory Kenneth Cameron was born and brought up in south east Wales. After making a commitment of faith as a teenager, he started attending his local village Anglican Church. He was educated in Croesyceiliog Comprehensive School in Cwmbran, and while reading Law at Oxford University, discerned a vocation to the ordained ministry. On being accepted as an ordinand of the Church in Wales, Gregory studied Theology and Religious Studies in Cambridge.
After studying at St Michael's College, Llandaff, Gregory was ordained into the Diocese of Monmouth, serving for the next six years in parishes in the diocese. He later served as a school chaplain (Wycliffe College, Stonehouse) and as director of an educational charity (The Bloxham Project). In 2000, Rowan Williams, then Archbishop of Wales, appointed Gregory as his Chaplain.
In 2003, the Secretary General of the Anglican Communion appointed Gregory as Director of Ecumenical Affairs at the Anglican Communion Office in London, and he became Deputy Secretary General a year later. In this role, Gregory was involved deeply in Anglican Communion affairs and in all the ecumenical dialogues of the Anglican Communion at international level. As a result of this work, he was awarded the Cross of St Augustine by the Archbishop of Canterbury.
Gregory holds Masters degrees in Jurisprudence, Theology and Canon Law, and an honorary Doctorate of Divinity from the Episcopal Divinity School in Massachusetts. He has lectured in Old Testament at St Michael's College, Llandaff, and as an Honorary Research Fellow in Canon Law at the Centre for Law and Religion in Cardiff University. He is currently Co-Chair of the Anglican Oriental Orthodox International Commission.
He was elected Bishop of St Asaph in 2009, a diocese which covers north-east and part of central Wales. He has served as lead bishop on education, church liturgy and ecumenism and interfaith relations and has worked closely with other organisations to support homeless people and refugees. He has also served as Chair of the Commission of the Welsh Covenanted Churches, and is a trustee of Cytun, Churches Together in Wales. In 2016 Gregory also established the UK's first LGBTQIA Chaplaincy.
Gregory is married to Clare, a teacher of music, and they have three sons. He has a wide range of interests outside ministry and enjoys calligraphy, reading, and film – particularly science fiction. He has gained recognition as a coin designer in his spare time, creating three designs for the Royal Mint. In 2021, his book "An Advent Book of Days", written and illustrated by him and published in the UK and US, became a bestseller.