Bishop of Monmouth
Bishop Cherry Vann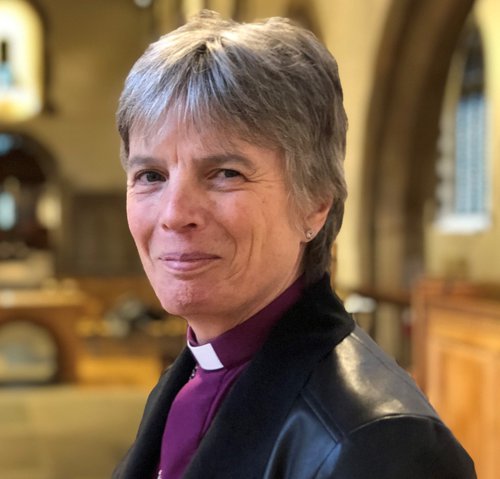 Originally from Leicestershire, Cherry Vann was consecrated as Bishop of Monmouth in January 2020. Prior to that, she served as Archdeacon of Rochdale, in the Diocese of Manchester, for 11 years.
Bishop Cherry trained for ministry at Westcott House, Cambridge, and was ordained as a deacon in 1989. Among the first women to be ordained as a priest in the Church of England in 1994, she served in the Diocese of Manchester. After her curacy in Flixton, she became Chaplain to the Colleges of Further and Higher Education in Bolton and was part of the ministerial team at Bolton Parish Church. She went on to become Chaplain to the Deaf Community in Manchester and Team Vicar in Farnworth and Kearsley. She then exercised ministries as Team Rector and Area Dean before becoming Archdeacon across Ashton, Oldham and Rochdale. She was also an honorary canon of Manchester Cathedral and a member of the General Synod for 14 years.
Bishop Cherry has held senior posts in the governance of the Church of England. She was Prolocutor of the Lower House of the Convocation of York and an ex-officio member of the Archbishops' Council. Latterly, she was member of the Strategic Investment Board which allocated significant funds for projects leading to church growth. She was also a member of the Archbishops' Pastoral Advisory Group, charged with drawing up pastoral principles and resources to help churches offer a genuine welcome to LGBTQI+ people.
She has a passion for justice and reconciliation and has founded and chaired groups across the Diocese of Manchester that have brought together those of differing views and beliefs on the ordination of women and issues in human sexuality.
A talented pianist, Bishop Cherry is both an Associate of the Royal College of Music (ARCM) and a Graduate of the Royal Schools of Music. She gave recitals and performed a number of piano concertos before beginning training for the ministry. From 1998, she was conductor of the Bolton Chamber Orchestra until she left to come to Monmouth.
Bishop Cherry lives with her civil partner Wendy and their two dogs.