Re:cycle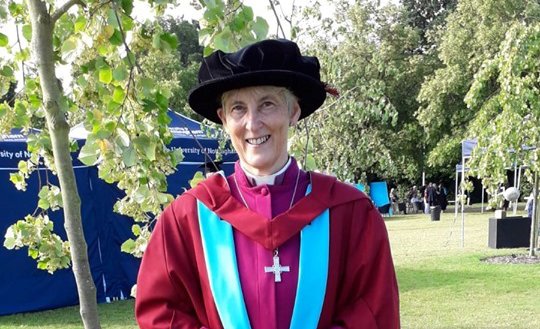 This week's Lent reflection focuses on the word Recycle and is by the Bishop of St Davids, Joanna Penberthy.
Recyling's a new word but it's nothing new. When I was growing up, "waste not, want not" was a refrain we heard a lot and was something everyone took for granted. I still have my Mum's button box and I'm still adding to it. Buttons cut off shirts, blouses and anything else too worn to send to a charity shop plus the extra buttons, from new clothes that come in little cardboard envelopes, I put in my button box. Unlike my Mum, I don't sew them on other clothes very often, but I still keep them "in case." Old habits die hard. I remember also shopping before carrier bags and when milk came in glass bottles.
We aren't going back to the 60s or 70s of course: but, like the owner of a house in Jesus' parable, who brings out of his storeroom new treasures as well as old, we too need to draw on all our experience to navigate a way out of our current crisis.
If we don't, this planet will no longer be habitable for our grandchildren. We in Wales are doing really well. Of the four home nations, Wales is the best at recycling, the third best in Europe and the fourth best in the world! [1] Our grans and great-grans would be proud!
There is recycling but there is also upcycling. Upcycling is about making something new and beautiful out of things that in their old forms have served their purpose but still have plenty of possibilities when put together with something else.
Christianity is about our bodies, minds and spirits. This Lent, as we think this week about how we can waste less and recycle or upcycle more of the things we use, let's also give ourselves time to think about recycling as a theme in our lives. We all have a whole button box of experiences tucked away in our memories. Take time this Lent to spend time in quiet and go through the button box of your life. What are you grateful for? What have you learnt? What would you do differently? This isn't about blaming ourselves. We can only learn by experience. We do not come fully formed. So spend time this Lent not just to recycle the material things that you use but the experiences you have had. What from the past can you learn from to inform your future?
Some things in our past may have beeen harmful to our well being, if so, it's important that we seek the help of someone properly qualified to help with any issues that arise. The NHS [2] provides this help free of charge and on line so take this opportunity to begin to work through the things that hinder rather than help us.
Let's take the opportunity Lent offers to take stock of how we use the resources of our planet and the resources of our lives that we may make the most of all that we have been given.
[1] https://recyclinginternational.com/business/wales-zero-waste-strategy-to-be-worlds-best-recycler/29099/