Revd Zoë King, Llandaff Diocese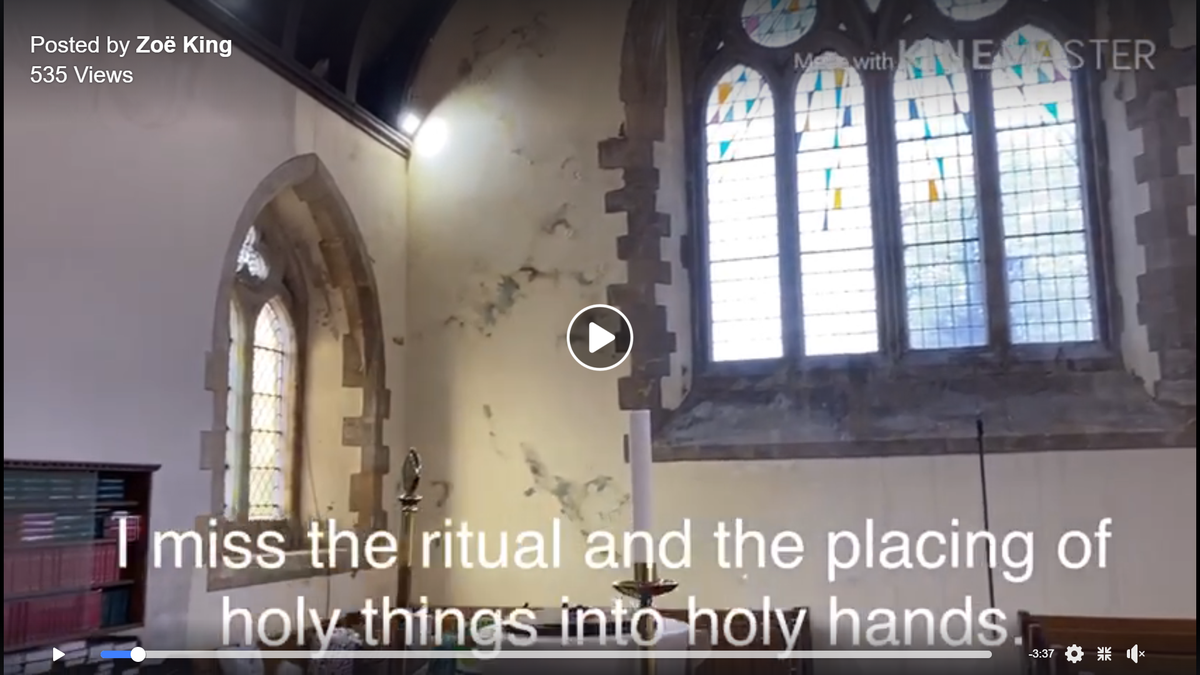 We are learning about what is important in our worship, faith and spirituality, says the Revd Zoë King, Priest- in-Charge, Tongwynlais
I miss the altar and I miss the building.
I miss the ritual and the placing of holy things into holy hands.
I miss the deep sacramental role I take and yet somehow in all this something else has grown.
I've not celebrated the Eucharist since Wednesday, the 18th of March. I live on my own and my own theology leaves me uncomfortable with the idea of celebrating in front of the screen. When I say, "Here is the body and blood of Christ", I want to place it in the hands of others, not say here it is, watch me consume. This is not a judgement on those who do, we all have our own personal convictions, but for me the next time I say those words I want at least someone else to receive apart from me.
We have created a little cyber ministry area with people coming from different places, including Australia, to join us on Zoom. It's a little clunky but our Ministry of the Word service offers an opportunity to get together. Our Paschal candle is a white candle from the local supermarket, decorated with plaited coloured pipe cleaners but it's lit with reverence before the service. When we return, the two parishes meeting will each light their churches' Paschal candles from this homemade one.
There is currently a banking advert that says, "How are you? And we really mean that at the moment". This is true for us before the service starts. It is far easier to get a true response in cyberspace in a strange sort of way. The artifice we can hide behind in the buildings, is somehow stripped away as we need to show our faces more clearly. We, as a community, grieved with the death of Father Neville Jones, a retired priest of the diocese, the pain more obvious on faces. As we were all far closer to each other physically it seemed as we could each other's faces clearly, while still apart spatially. There is an honesty in our response. Is this because we are more comfortable in our own home whilst able to create a sense of distance with a screen, that we are able to show our emotions?
There is a deep grief for not being able to receive the sacrament for all of us. We understand the reasons for not meeting so find new ways to connect. Jesus spent three years walking and talking, we are spending time sitting and talking and learning all sorts of new things about each other. Zoom is not where I want to be meeting with my community and yet maybe through it we are all learning a little more about what is important in our worship, in our own spirituality and in our faith.
There are serious downsides to lockdown worship - nothing will ever be perfect but there is a chance to meet, to communicate and connect through it. I'm finding there is a grace as we meet, the imperfections of Zoom, internet connection and human, make us smile. God is almost more tangible in the fallibilities of this worship.
I miss the altar and I miss the building.
I miss the ritual and the placing of holy things into holy hands.
But in the absence of these, unexpectedly we found something more.
So when we return there will be a new depth to the worship.
I miss the altar and I miss the buildings.
I wonder, though, somewhere down the line if I don't also say I miss Zoom.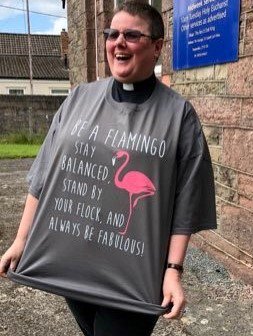 Join in Zoom services with the parish of Tongwynlais by emailing the Revd Zoë King on revdzoeking@gmail.com