Podchurch at Christ Church, Llandaff Diocese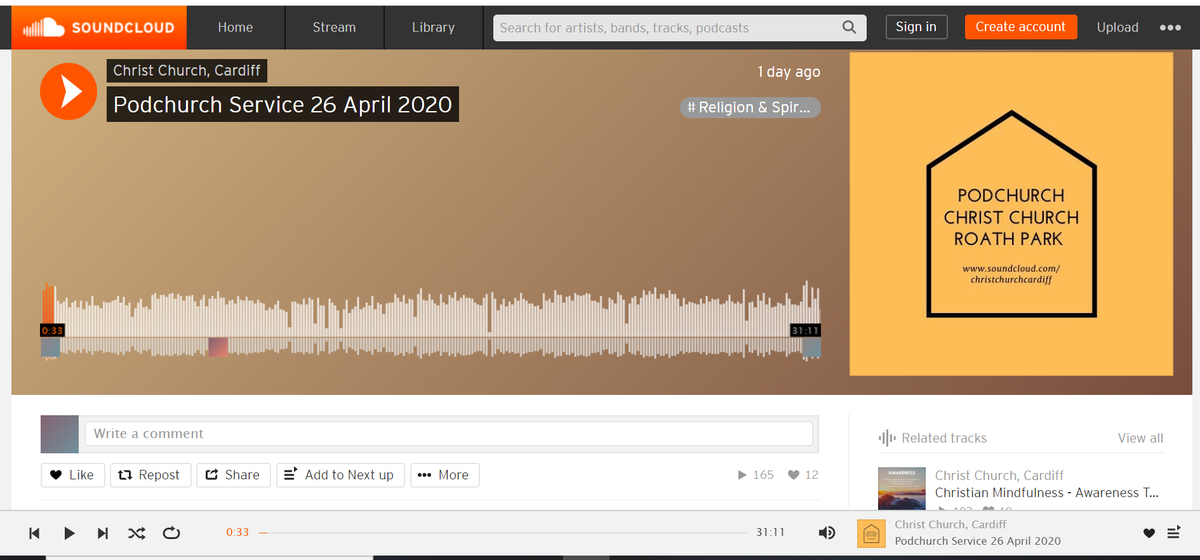 Church has become an audio podcast for one parish. 'Podchurch' is a SoundCloud with a silver lining, says Revd Canon Dr Trystan Owain Hughes, priest-in-charge of Christ Church, Cardiff.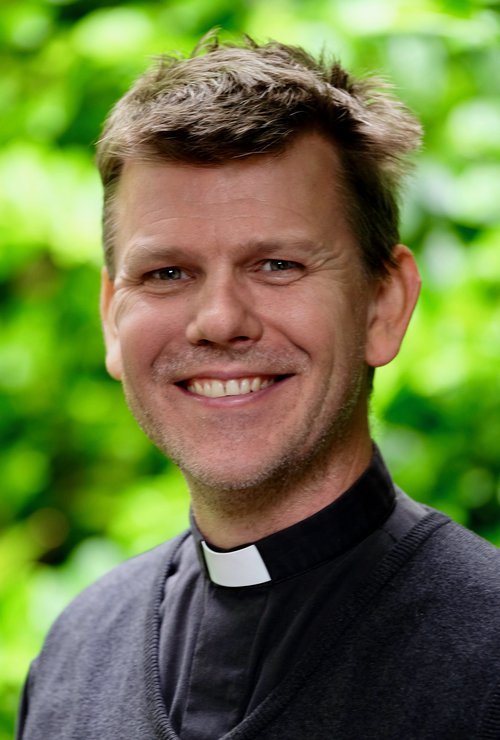 When self isolation and lockdown began and the churches were closed, we in Christ Church, Roath Park, Cardiff knew that we had to find a way to keep our church family connected, to inspire them in these troubles times, and to reach out to our local community and beyond. I contacted one of our church members, Andy, who had worked for BBC Radio One and Capital Radio in the past. We came up with the concept of 'podchurch' – church services in the form of audio podcasts. These can be listened to at any time – while sitting in the living room, while out for your daily exercise, while making a meal, or while relaxing in the garden.
Putting these digital services together each week takes organisation and time. Many of our congregation are involved with the readings, reflections, prayers, and closing messages – all recorded on their mobile phones. Our musical director and her son, a chorister at Llandaff Cathedral, record the hymns, alongside the choir who use a clever app to record voices and instruments in the comfort of their own homes. Andy then does a great job editing and producing the short services, which are of a high quality.
We were astounded at the popularity of these digital services. In the first four weeks of lockdown, our podchurch SoundCloud channel had almost 3000 plays – and, of course, each "play" will sometimes have a whole family listening while sitting around their computer or iPad. In other words, we have reached far, far more people than we do on a normal Sunday. And we know from our stats that, while those tuning in are largely in Cardiff, we also have regular listeners across the UK, and, believe it or not, in another 24 countries worldwide! We also know through emails sent to us that we have people listening who are not usually church attenders.
The venture has become so popular that we are now producing other recordings for our podchurch channel. The Christian mindfulness meditations, for example, are particularly popular at a time of worry and anxiety. Alongside this, we have started Zoom prayer meetings, Zoom Bible study, and YouTube reflections. It has taken a bit of time to get used to the technology, but church members of all ages have really got in to Zoom meetings! They are certainly no replacement for meeting together in person, but, while in lockdown, they have provided us another useful online way to connect.
We are, as a church community, still looking forward so much to the time when we can get back together in our church building to connect face-to-face – nothing can fully replace meeting each other in person. But we have realised that using technology has huge advantages for the church today – despite the difficulty and sadness of our present predicament, we have found new ways of reaching out into our community, new ways of offering peace of mind, and new ways of inspiring people to lives of service and compassion. As such, even though we won't have the capacity to do as many digital services once we are back in our building, we are still hugely keen to continue our podchurch channel after the end of the lockdown.
Listening in
Podchurch keeps us together as a family, writes parishioner and pastoral coordination Val Jones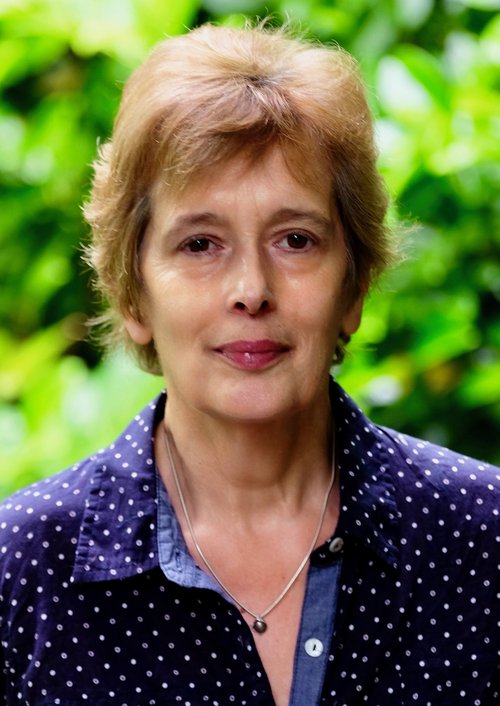 Christ Church is like so many large families having members of all ages from nought to a hundred; family members who have attended other churches at previous times; family members who were born in other countries and speak other languages; family members who experience barriers to living. And the Christ Church family love nothing better than being together, celebrating together and supporting each other at difficult times.
When we were told we were not able to meet on Sundays or during the week we were sad and felt the loss. Many of us instinctively began phoning others, initially informally but also in a more organised way so that those who were isolated would know they were still cared for and could be helped practically when necessary. But in that first week or so we missed meeting, singing and praying together at church services. So what a joy it was when many of us received information that there was to be a service called Podchurch which we would access on the internet…if we had the internet. And many of us do, but not all.
That first service was wonderful: we heard Trystan welcome us in English and Welsh – as he does every Sunday morning. We heard beautiful music and singing from one of our junior choir and his mother; we heard the OT and NT Bible readings from member of the congregation which then Trystan reflected upon, and intercessions written especially for us by our Reader in training and the Lord's Prayer read by a family, parents, teenagers and children. We were able to follow and join in using the document sent by email. And what a surprise at the end when we listened to messages from other members of Christ Church sending their best wishes. The audio half-hour service was very different to what we were used to but was brilliant. I learnt later in the week as I phoned round that many people had listened in, trying if possible to do so at the time they would normally be in church. One lady who cannot access the internet listened to it on the telephone while a friend of hers played it on her computer…wonderful!!
But, of course, we have members of our Christ Church family who do not have a computer or mobile phone: they appreciate hearing about podchurch and are able to listen or watch other services on the radio or television. However, I know of at least three members of our church who would not describe themselves as young who have recently acquired a 'tablet' and are now 'online' – simply so that they can join in the services. And like others I am in touch with we are able to listen to/watch services from other churches (my brother who lives in St Albans and I exchange link details weekly) and one church friend listens to/watches services from all over the world…she was delighted to have seen the Archbishop of Canterbury leading a service from his kitchen!
As the weeks have gone by many more members of our church family are taking part in the services with readings, prayers and reflections: we have successfully learnt how to record using technology. All are invited to send messages for the end of the service, and this can be done by those who do not have modern technology but just a telephone. And now when we listen to the closing hymn we hear the choir and music group all performing together beautifully – the wonders of computers!!
And in the future? Our Pod services are now compiled in a bespoke website so that they can be enjoyed time and time again or can be easily accessed if missed on the day. We are very lucky in Christ Church to have members who work in the IT industry and give their time freely to enable the technology. One told me he has welcomed this at a time of being furloughed from work. But when life gets back to normal I wonder if the time for planning and production may be too much for those heavily involved.
Since introducing podchurch, Christ Church has also embraced technology for prayer. We now have twice weekly prayer groups via Zoom. All are invited to join although the technology can be a hurdle. The group welcomes neighbours and friends from other churches and this includes a family who live in Kenya – a privilege to hear from, and pray with, people living in such a different country and environment.
During this very difficult time, technology is ensuring we can stay in touch with our Christ Church family; in fact it has enhanced many relationships in that people we have simply smiled at on Sundays and said good morning to are now true friends to whom we speak on the phone regularly and with whom we share joys, worries and news. Podchurch technology means we remain the Christ Church family who comes together regularly for worship, reflection and prayer.
Join in Podchurch at Christ Church Cardiff Podchurch Channel: