Molly Nixon, St Davids Diocese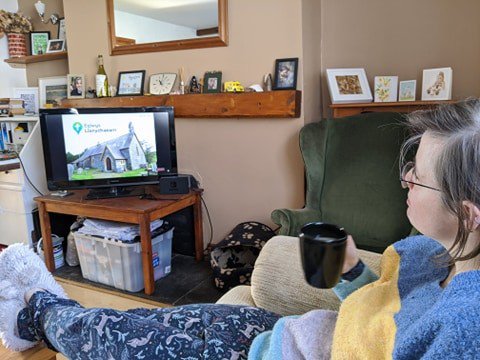 Fun as it is to turn up to worship in fluffy bunny slippers and with a cup of tea in hand, being in the digital congregation has its challenges, says Molly Nixon, parishioner and assistant at St Michael's Church, Aberystwyth (pictured above).
I must have heard a thousand times that the Church is not a building; I have probably said it myself a fair few. It seems, though, that with Covid-19 on the warpath, those of us who have stuck to this maxim are finding it put to the test. Like the rest of the world at this time, the vast majority of us have been forced inside our homes and normal life has been reduced to screens, the people we live with and voices on never-ending phone calls.
In Aberystwyth, our Anglican church services have gone online with the regular Sunday service, children's Sunday club and thoughts for the day now on YouTube and Facebook. It is vastly peculiar not leaving the house for church, and yet somehow I can still show up late. Our services feature various members of the congregations around Aberystwyth and the surrounding area filming themselves leading worship, reading Bible passages, preaching sermons and leading prayers. One of the upsides to all this, as I discovered last week when I was asked to read a passage in Welsh, is that you can re-record it until you get all the pronunciations right – and no one will know…
Digital church has the added bonus that you get to see faces from your neighbouring congregations that you might not otherwise meet, all without having to leave the comfort of your own home. You can even join in with a different church – or go church-sightseeing around the country, and no one minds if you're singing along to the videoed hymns and are out of tune – except maybe the cat.
But I have found I have to make more effort to force my brain into a worshipful attitude, like reminding myself it's time for church and not mentally writing a shopping list during the service, when it's normally aided by the big echoing hallowed church, and the people around me who are focusing on God. The rhythm of my normal routine that finds me reading the Bible regularly, and in prayer meetings once a week, is completely shattered too, and I have to be much more determined and self-controlled to get through Deuteronomy.
Small, life, Bible study, call-them-what-you-will groups are also a little odd over Zoom video calls. To be entirely honest, I really miss my home group leader's cake – mine just does not compare. Furthermore, how do you comfort someone you would ordinarily go and sit next to and offer a tissue and a reassuring arm around them when they're in a different house? Natural conversation, too, seems a little less natural, and more round-robin because of the constraints of technology. And what about the other things Church does too? The physical place people can go to for company isn't there, and though you can ring your congregation members for a chat, it's not the same as a nice long coffee. A lunch delivered to your door is of course appreciated, but what about the company you would have over the table?
I can see the churches around me finding solutions to each problem: burning the service onto a DVD that can be posted to those without the required technology like smartphones or laptops; volunteers working individually to make lunch for those who can't afford a meal so that they conform to isolation rules; leaders working out how to make prayer ministry available over Zoom, as well as virtual coffee times and prayer meetings. And churches are developing technological skills, with many people getting really very good at filming on their phones.
Whilst it is true that the Church is not just the building, it is still heart-wrenchingly difficult not to see in the flesh that which does define Church – God's people. Although I do enjoy being able to join in worship on a Sunday morning in my fluffy bunny slippers, mug of tea in my hand and hair, well, unbrushed, I would rather forgo all these joys to be able to shake my fellow congregation members' hands in the peace and chatter with varying strengths of squash after a normal, less-than-two-metres-apart service.