Fr John Connell, Monmouth Diocese
Live-streaming the Daily Offices has helped others discover the rhythm and structure they give to the day, says Fr John Connell, priest-in-charge of St Augustine's Rumney.
As it became clear that churches were not going to be open for public worship, I decided to live-stream a few prayers on our parish Facebook page to see how easily live-streaming could be done. By the weekend I had produced and distributed resources around the parish to help parishioners follow and join in. For those without access to the internet there were other prayer resources for use at home and details of broadcast services on television and radio.
Recognising that this was probably going to be a long haul in terms of social isolation, I decided to live-stream twice a day, every day. St Augustine's Church is at the bottom of my garden, so it's easy for me to access church without meeting people and say the Daily Office and make it available to everyone. As the Office provides structure in the daily life of a priest, I realised that others might find this a help in giving structure to their day. On Wednesday and Sunday mornings Morning Prayer is replaced by Mass.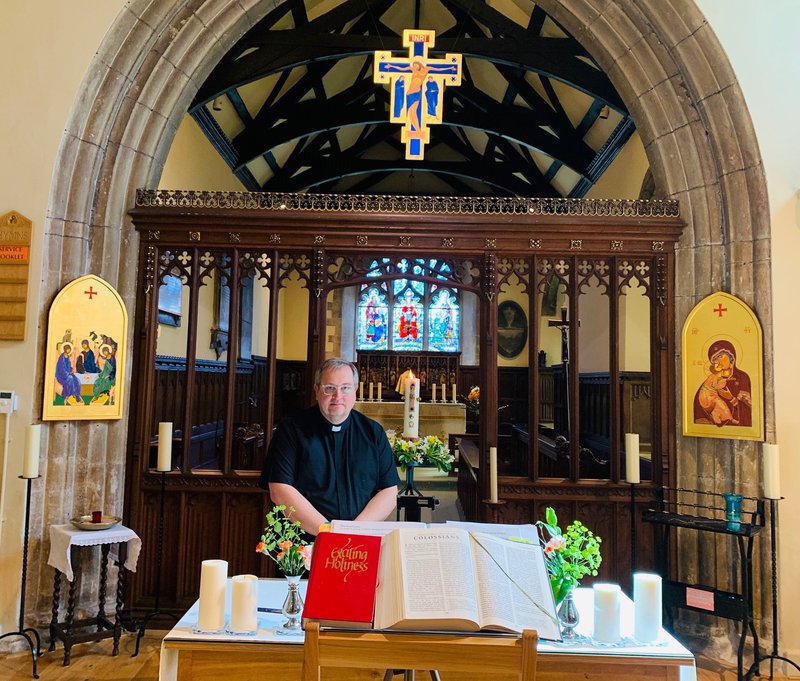 Every day anything between eight and 15 people join me live for the whole of the Daily Offices, and on Easter Morning there were 91 people 'attending' the live stream of our Mass for Easter morning and more than 458 people engaging with the post in some way or another. We have been joined for Offices and Mass by people from as far away as New Zealand and Texas as well as people from across Monmouth Diocese and the Province, perhaps from parishes which are unable to live-stream, or who have some connection with St Augustine's.
The Daily Office is rooted deeply in the ancient monastic offices of the Church, and I have always believed that they really come alive when said 'in community' with others, rather than as a solitary activity. It's been a real joy to see so many people joining me twice a day to say the Offices and discovering the rhythm and structure they can give to the day. By praying together in this way we are helping to combat, to some degree, the isolation people are feeling, bridging the gap between us as individuals at home and the church as an interconnected worshipping body. And just like church on Sundays, there's always chatter before the service starts as people say hello to one another!
Live-streaming has enabled us to remain connected with a large section of our parishioners, though, sadly not all of them. For those unable to access the services, phone calls, our newsletter and prayer resources dropped into their home are the main ways of keeping in touch. By streaming services from church, people have taken great comfort from being able to identify with a church that they love but from which they are isolated at this time. I am grateful that our Bishops have recognised the importance of holy places to people in the guidelines they have issued.
We will certainly continue with livestreaming services once we are able to return to some degree of normality, to enable those who, for whatever reason, are unable to come to church, but have access to the internet, can still feel a part of our worshipping family.
Virtual congregation
Among those joining Fr John online for live services are parishioners Helena Read and Dr Helen Dharmasena.
Helena says, "Live-streamed services allow us to continue to gather in worship. They show that Church is not just a stone building but a real community. I am so thankful for the reassuring daily routine these services provide in uncertain times. Ministry has evolved to give comfort and hope to people who feel isolated in their own homes, bringing friends and family ever closer together.'
Helen adds, "I've been really surprised at how important the live services have become for me. Live-streaming connects us all in real-time, allowing us to communicate with each other and to actively participate in the service, while being 'in church' creates a really comforting sense of continuity. Despite such extreme constraints, the Holy Week services were as moving and challenging as they ever have been."
Join the live-streamed Daily Offices and masses with Fr John