Chris Dearden, St Asaph Diocese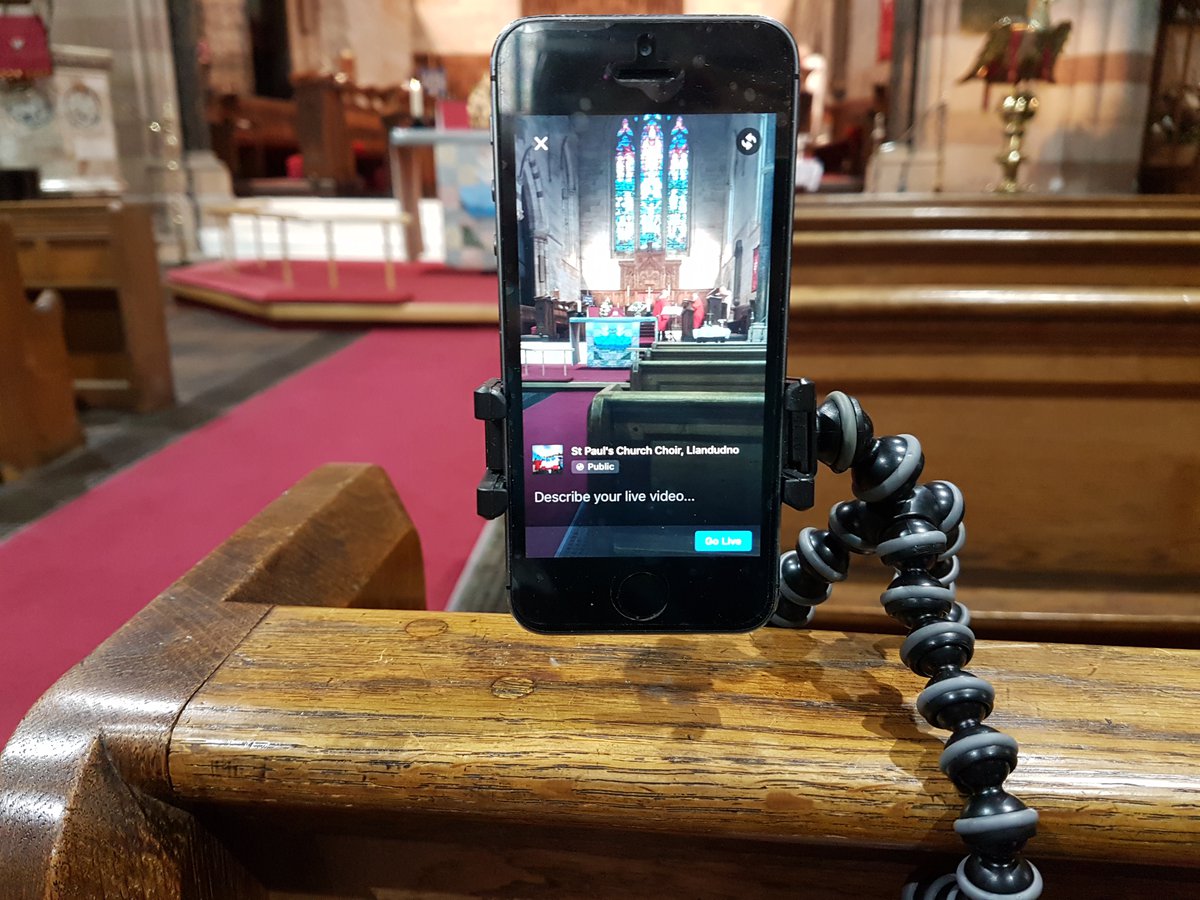 Recording services for broadcast - including a virtual choral evensong - has been the main approach to Digital Church taken by St Paul's Church in Craig-y-Don, Llandudno, writes church warden Chris Dearden
If you'd told one of our priests that he would spend Easter 2020 learning about phantom power, he might have been a little concerned. But that was just one example of the new lessons that people at St Paul's Llandudno have had to learn very quickly.
We were the first Anglican church in Wales to broadcast services online, something we started doing in 2016. So when the lockdown began, it seemed like a natural thing to try and keep going online, just without the congregation in the church itself.
In practice, things were more complicated than that. The first problem was that people had to learn to deal with technology. Previously, we'd left the technical side of things in the hands of one or two knowledgeable people, but now our main priest was celebrating from his house, and had to know how to set up a tripod, train his wife as a floor manager and position a microphone. Phantom power, by the way is the extra amplification given to a microphone with some recording systems.
We recognised early on that there are roughly two ways you can do church digitally. One of our colleagues referred to them as "meeting" or "broadcast". With the "meeting" style, you use video conferencing software, such as Zoom, to get a group of people together online and have a service with them all watching. With a "broadcast" style, your service is put together almost as a mini-TV programme.
There are advantages and disadvantages to both. The intimacy and real-time connection of the "meeting" style service is being used very well by other churches in our mission area. We opted for a "broadcast" approach, partly because it reflected what we were already doing anyway, but also because we were concerned that more of our older congregation would be fine clicking on a YouTube link, but might struggle to master Zoom.
But even with our previous experience in broadcasting services, it soon became clear that a digital-only church is very different from our 9.45am communion service on a normal Sunday. We were acutely conscious that we need to engage people and keep them watching. Father John Nice (pictured below), who's been celebrating services for us, quickly grasped this and took the lead in making sure that no one segment was longer than six minutes. This helped ensure that as a watching experience, the service flowed and had pace.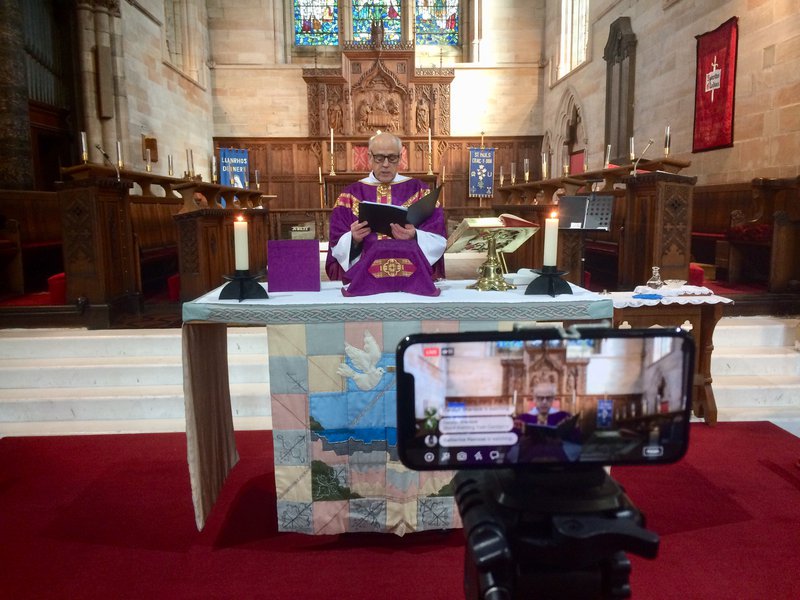 Our other challenge has been how to involve and re-connect the congregation with a digital service. You can join in the responses and sing along with the music at home, but it's nowhere near the same as being with your church family in our familiar Sunday surroundings. Palm Sunday provided the ideal opportunity for an experiment: we asked the congregation to send in photo or video selfies of themselves with a palm cross (sent to them in the post a few days in advance). We then edited these together to form a "virtual palm procession".
We were amazed by how many pictures we received, often from people whom we didn't even know had a mobile phone! It gave everyone a great chance to see that their church friends were alright in lockdown. But it also tripled the amount of technical effort needed – editing that service was eventually finished at 2.45am in the early hours of the morning before it was due to go live.
We're a church with a long-standing choral tradition, so we've also been looking at ways to involve the choir. Each week, singers send us their voice part to a hymn or anthem, which we then mix into a four-part virtual choir. It's very labour-intensive, which has restricted the amount of music we can turn around. However, we did do an entire choral evensong. This took several days of editing and mixing, though we were very pleased with the results, even though it's never quite the same as the real thing!
As well as this, we've also started broadcasting evening prayer on weekdays. This wasn't a service that we would regularly do at St Paul's but came about as a bit of an accident. We were intending to do it for a few days at the start of the lockdown, mainly as a way of testing the technology and experimenting with improvements to the sound and picture quality. But we had such positive feedback, that we've carried on. There's never loads of people watching, but the small number who do seem to appreciate it. One person even commented that it was like a religious version of her mindfulness app!
It's been an extremely busy, though rewarding few weeks. Our Good Friday service has been viewed by more than 1,200 people, and we've learned things that we'd probably never have dared try in normal circumstances. We will continue broadcasting services once we return to our building, but will certainly bring some elements of what we've learned to our broadcasts in the long term.
However, the challenge both now and the future isn't so much mastering technology, but working out how we can use what we're doing to expand the church's mission. Can a digital church help us reach new people whom we wouldn't otherwise have been able to connect with? It's something we're pondering now, and probably will continue to develop for a while yet.
Join in services at St Paul's Church
Catch up with the virtual Choral Evensong held earlier in April