Trish Tazzini-Lloyd - Muddy Church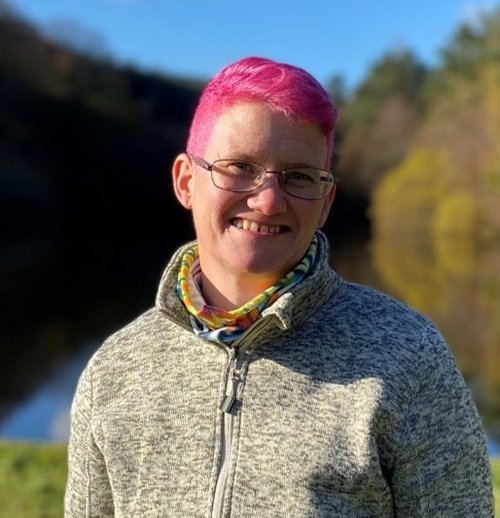 At the start of lockdown, many church groups quickly moved online. However, some people felt left behind by digital transitions. Whether it was not having the right technology, the right information or digital skills, not everyone could access online events or groups as easily as in-person ones.
As the Schools' and Children's Worker for the Parish of Pontypridd, Trish Tazzini-Lloyd realised this fact early on, and set out to make sure children still had an engaging experience of church in a COVID-secure way.
"I felt early on in the first national lockdown that it would be increasingly difficult to maintain a good relationship with the children and to lead them in their walk with God as time went on," says Trish. "I foresaw that some of my families would find it increasingly difficult to worship in a remote setting, and the Holy Spirit was prompting me to think creatively. I have lots of families who have 'Zoom-fatigue or 'Zoom-phobia'."
Trish was inspired to change Messy Church to Muddy Church – a COVID-safe way of continuing activities with children outdoors – after seeing other organisations doing similar work.
"I was desperate to find a way to reach out to our families with God's love and light, but not via a screen. I came across Muddy Church, a concept which I just loved - the thought of wondering with families and getting them to wander in God's amazing creation. This stirred an excitement in my spirit.
"After chatting to the founder of Muddy Church, she asked me to take the name and make it my own, and to do what would work in our community. We are still in the early stages, and so far, folks of all ages have come along to share, create, and to make things linked to creation and to think more about what God is saying to us as we wander. This has worked well, as many of those families who were struggling have reconnected with us."
Muddy Church ran on the first Sunday of every month in the grounds of St. Catherine's church. Parents joined in and families were encouraged to explore together.
As well as Messy Church regulars, Trish noticed more and more unfamiliar faces coming along to Muddy Church. Passers-by often stopped to ask questions about the events, and many ended up staying to try it out.
"People can come and go as they please," says Trish. "Even if just to pop in to take a themed at-home learning pack. The events have a general capacity of 30, and next year there will be a pop-up gazebo to welcome more."
Each monthly session had its own theme, with the first one being leaves. Children made puppets, paintings and their own 'leaf people'. Families explored the natural world and creation, then all come together at the end to share what they had made and pray together. Letters and prayers were also often hung on trees.
Trish says it has been an absolute joy to witness the smiles on peoples faces having fun during the activities. The outreach is an example of "friendship evangelism" and it has strengthened the bonds between the church and the wider community.
While Trish is using digital platforms for the group to share updates, she says Muddy Church has been a real life-line for families who have been able to be together in a way that is safe and fun.
If you're interested in attending Muddy Church or any other programme run at St Catherine's, you can visit their dedicated Facebook page here. (First Sunday of every Month beginning again from February 2021).
Volunteer, Serve, Participate
All of us can be torch-bearers. We can carry the light through volunteering, serving and participating. To find out what you can do for your local community, complete the volunteer form with your details and we will put you in touch with someone who can guide you.
Volunteer Form