June Cadogan, Foodbank volunteer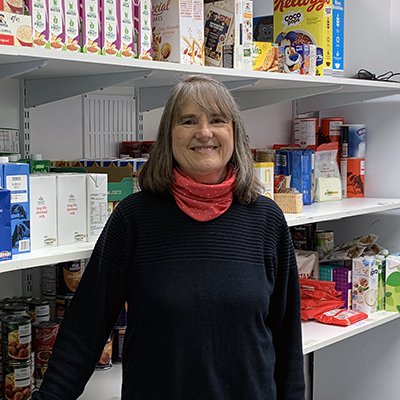 June Cadogan is one of the team of about 34 dedicated volunteers who run the Bangor Cathedral Foodbank.
Based at the Diocesan Centre, Tŷ Deiniol, in the Cathedral Close, the Foodbank was set up in 2011 and very quickly became an essential service in the city. Demand today is as great as ever as months of the Covid pandemic take their toll on people's livelihoods and mental health.
June has been volunteering there for the past six years. She helps out every Monday, setting out the tables, making up the packs of food and distributing them to the customers. Her work includes checking referrals, updating records, ensuring people know where to access more help should they need it. On Saturday mornings she shops for any items the Monday foodbank team needs. She also makes time to write to donors, thanking them for their contributions.
"It has been a challenging year for the Foodbank," says June, who is retired. "Demand is increasing all the time. It was particularly difficult during the first lockdown as most of us volunteers are over 70 and were shielding so were limited in what we could do. We were very fortunate when three young people stepped forward to help and they made a huge difference. Now we have strict Covid safety measures in place to protect everyone. We only have up to six volunteers each session working at the foodbank, while maintaining social distancing and providing safe outside distribution for our customers."
The Foodbank relies entirely on donations of either food items or money from individuals, local businesses, churches, chapels, charities and many more. The packs are put together by the volunteers – one of whom is a dietician and has ensured the packs have nutritional value. Dietary needs, such as gluten-free and vegetarian are also catered for.
"We couldn't run this vital service without the tremendous support from the local community," says June. "People come to the centre to drop off food. Some donate money online through our website and we have monthly donors too. We publicise a shopping list of items we need and people are terribly generous in their response."
The customers are mostly referred to the Foodbank by statutory agencies. Others come because they need emergency help or are homeless.
"We come across every hardship problem you could think of," says June. "Some have been in prison, others drug and alcohol dependent, some have lost their jobs and can't feed their children, others have mental health problems and some are homeless. We distribute food packs to them and point them in the right direction to get help. We have some regulars but count it a success when they don't return because their circumstances have improved and they don't need our help anymore.
"Most people are very grateful for the food packs. Some are very shy about receiving them. It's a big step to come to a foodbank – people find it hard or embarrassing to ask for help."
For June, a parishioner at St Cyngar's Church, Llangefni, and a Cathedral member, volunteering at the foodbank is part and parcel of her faith.
"As a Christian I do it because it is helping people who are in real need," she says. "The foodbank is bringing light into the darkness of their lives and I feel privileged to be part of that."
Volunteer, Serve, Participate
All of us can be torch-bearers. We can carry the light through volunteering, serving and participating. To find out what you can do for your local community, complete the volunteer form with your details and we will put you in touch with someone who can guide you.
Volunteer Form