Joseff Griffith, eco-Church champion
Caring for God's creation is central to Joe Griffith's faith as a young Christian.
As a member of the St Asaph Youth Forum he has been promoting 'eco-churches' and in the summer made a film for the diocese to highlight why we need to be good stewards of God's earth.
Keen to green the church, Joe would like to see wild-spaces created in churchyards, less grass cutting, increased use of Fair Trade and locally sourced products and more environmentally friendly activities through Messy Church or all age services.
He practices what he preaches - creating as little waste as possible, living on less, reducing unnecessary use of electricity and shopping locally. He has also given talks to his local church, Christ Church, Bala on avoiding or recycling plastic.
"For me, looking after our environment is hugely important," says Joe. "I heard the theologian, Prof Alister McGrath, sum it up like this, recently:
Imagine you have a very special friend, who has to go away for a while. They ask you to look after something of theirs which is very valuable and very important. While they are gone, you do not look after it at all. When the friend comes back and finds you have neglected and ruined it, they are going to be very disappointed with you, because you have let them down. Something that really mattered to them was entrusted to you, and what did you do about this? Nothing, you messed it up.
"The Christian doctrine states that this world has been trusted to us human beings. But what are we doing with it? Are we looking after it? Or are we exploiting it for our own short-term gain?"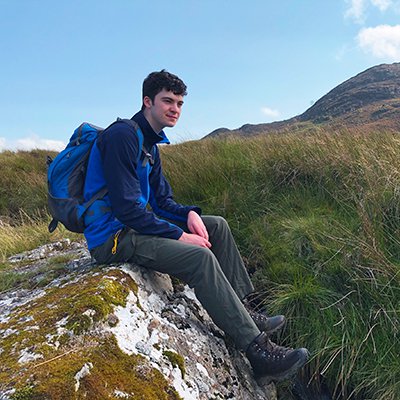 If creation matters to God, it ought to matter to us, argues Joe. "Our actions should be witness to our love for God and His greater love for us, that includes sustainably stewarding His creation. Worship is not just saying, 'God, you are Great', but it is also in accepting the responsibilities entrusted to us, including looking after each other, growing our faith, and caring for Creation.
"I suppose that is one reason for me why it is important. God is a loving and caring God who has bestowed such blessings on us through nature. We were commissioned to rule over it: "You made them rulers over the works of your hands; you put everything under their feet" (Psalm 8:6), however not as tyrants, but as good stewards. Of this, we have all fallen short."
Joe, who has been on the St Asaph Youth Forum for more than a year, believes there is still hope for God's world and he urges us all to act.
"Hope is found in the care of our one Good Shepherd, Jesus Christ. Having asked and received forgiveness for our mess-ups, with our eyes fixed on Him and following Him, leaning in on His strength, let us take up the role most of us have neglected for so long and work together to protect His Creation, bringing Him glory."
Watch Joe's film on why we should look after God's creation
Volunteer, Serve, Participate
All of us can be torch-bearers. We can carry the light through volunteering, serving and participating. To find out what you can do for your local community, complete the volunteer form with your details and we will put you in touch with someone who can guide you.
Volunteer Form