James Bessant Davies, volunteer videographer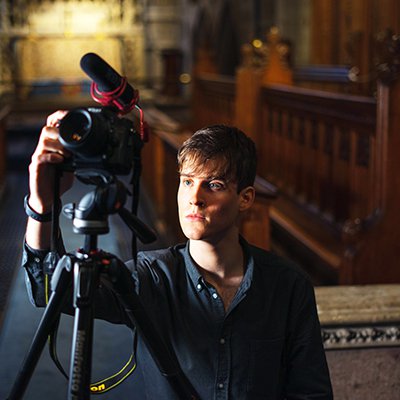 With the closure of all churches for the first lockdown in March, people wasted no time in finding alternative ways to minister to their communities. Spurred on by the challenge to provide services for Easter, they seized the opportunity to go digital and very quickly there was an explosion of services, both streamed online on Facebook or recorded and broadcast on YouTube.
Going fully digital was a steep learning curve for all and many found themselves roping in younger, more social-media savvy, family members to lend a hand. That proved a good shout in St Catwg Ministry Area, Crickhowell, as it brought in James Bessant Davies, the 18-year-old son of ordinand Anna Bessant.
With some experience of videography and the necessary equipment, James very quickly began working with the Rector, the Revd Rana Khan, and ministry team to make high quality productions, involving stunning drone footage of churches and well edited excerpts.
By November, James had produced more than 20 services and had whittled the weekly commitment down from days to just five hours. He had also accepted an invitation to join St Catwg's Parochial Church Council.
James says, "In March of this year, an increasing number of people were going into shielding, and unable to attend church. It was inevitable that restrictions would tighten, and possible that services could no longer continue. Mothering Sunday was the first benchmark. Nobody in the ministry area had done anything like this before, and we needed to create a format that could last.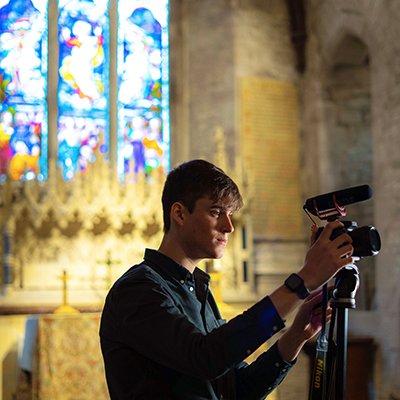 "We decided that watching a livestream of someone preaching in a gloomy church seen through the eyes of a grainy phone camera was not the way to go. We tried to create a cohesive service, involving as many people as possible, whilst keeping it short and engaging. We also tried to feature a different church in our ministry area each week. These I would go to, and capture drone footage and stills.
"My role comprised of two parts, recording footage, and editing it together, the second part of this by far the most time consuming. To start with it would take a good day to film and produce a service, and a while longer to upload it to YouTube. Since then I've managed to streamline the processes, and now a service takes around five hours to film and compile.
"By being involved in these projects I knew that I was helping people, I really could make a difference. Faith was undoubtedly a large motivation. I was aware that people really needed spiritual food.
"From the start we were surprised by how many people were tuning in to these weekly services. The YouTube counter would register 250+ people, and statistics showed that we were picking up views from all over the UK, and even some weekly viewers abroad in the US and elsewhere. These views gradually decreased when the restrictions loosened, but even now I am amazed that more than 10,000 people have tuned in for these services.
"I have undoubtedly learnt a great deal over this time too. My video editing skills have advanced dramatically, and I now have concrete experience and a portfolio to my name.
"Thinking back to earlier this year, when the restrictions were introduced, people were distraught. I think these online services have helped many to get a little 'normality' back into their lives. It's impossible to replicate that feeling when you step into church, the organ rings in your ears, and you are surrounded by family, but we tried our hardest as a church to provide ministry, and I think people appreciate that.
"From now on there is always going to be a place for digital ministry and outreach. Whatever does happen, it is vital that we don't forget the importance of our physical churches, and the fellowship that resides within them. Whilst undoubtedly my generation is heavily influenced by technology, I really can't see a world where I, or indeed any of my Christian friends would choose a digital service over a physical one. These digital services have been a 'stand in', they have fulfilled that purpose, but in the future I hope that they act only as an alternative, and not a replacement."
Volunteer, Serve, Participate
All of us can be torch-bearers. We can carry the light through volunteering, serving and participating. To find out what you can do for your local community, complete the volunteer form with your details and we will put you in touch with someone who can guide you.
Volunteer Form