Elen Skyrme - growing Tir Dewi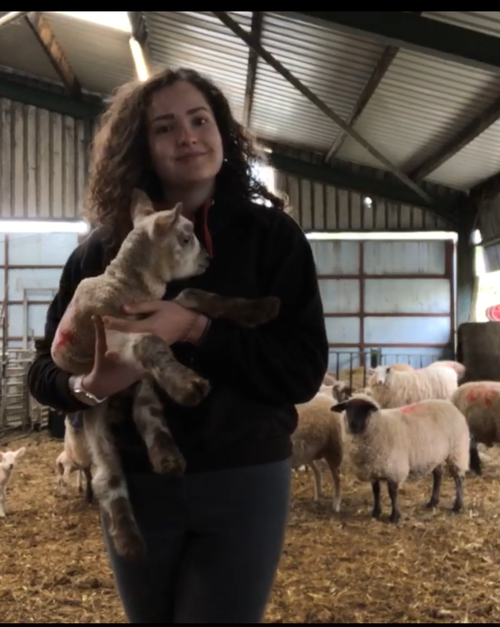 Isolation and poverty are on-going concerns for many people in rural areas, heightened now by the COVID pandemic. Five years ago, a helpline called Tir Dewi, was set up for farmers in West Wales by St Davids Diocese and this year has seen it expand rapidly to offer support to rural communities in Powys and North Wales. Project manager, Elen Skyrme, says there is a huge need for the service.
"Since 2015 Tir Dewi has helped more than 200 farming families," she says. "Some of our support is provided via a free helpline, but most cases involve many visits (Covid allowing) and a complex solution taking weeks or even months.
"Our volunteers understand many of the issues faced by farmers and often just talking about your problems is the first step towards finding solutions. We can help untangle and prioritise problems and introduce partner organisations which can offer additional support. Tir Dewi is there to help and offer complete confidentiality
"We started in the Diocese of St Davids in a response to a growing and serious need for someone to help the farmers of West Wales in difficult times. The Revd Canon Eileen Davies (now Archdeacon of Cardigan) and the now retired Bishop Wyn agreed that something had to be offered and Eileen was tasked with establishing Tir Dewi as a helpline and support service. However, the name Tir Dewi always referred to the whole of Wales so, this year, we decided to expand our services to four further counties in Wales as it was clear that there was a need there.
"The launch for Tir Dewi Powys was the first scheduled, planned for the Royal Welsh Show to showcase our services. But in March Covid 19 took its toll and our plans were halted. We decided to launch an online survey to understand the need for a help service in Powys and it was quickly established that it was huge. This was down to many farmers and their families either not knowing how or where to reach out for help, or being very concerned about confidentiality, due to feelings of shame and embarrassment. The launch of Tir Dewi in Powys could not be postponed, and a virtual launch during the Royal Welsh week in July took place instead.
"With the successful virtual launch of Tir Dewi Powys, it was decided that we would launch virtually in three further counties in North Wales in September. So Tir Dewi is now not only offering support in Ceredigion, Carmarthenshire and Pembrokeshire, but also in Powys, Conwy, Gwynedd and Anglesey.
"It is the volunteers at Tir Dewi that enable us to provide this service and make a real difference to farmers' lives. Without the commitment, passion and empathy of our volunteers we would never be able to help anyone.
"Volunteers come from a range of backgrounds but all have a link to the work of Tir Dewi in some way. Some have a background in farming, some have worked in a support service while others have a counselling or mental health background. This range of skills and experiences means that we are able to help with a wide range of requirements from listening to helping to find the right practical support.
"We have seen Tir Dewi grow from a small seed to an organisation of more than 60 people, all focussed on offering help and support to farmers and their families in need."
To find out more, visit the Tir Dewi website
You can call the helpline on 0800 121 4722
Volunteer, Serve, Participate
All of us can be torch-bearers. We can carry the light through volunteering, serving and participating. To find out what you can do for your local community, complete the volunteer form with your details and we will put you in touch with someone who can guide you.
Volunteer Form