Barbara Jones, Crafty Angel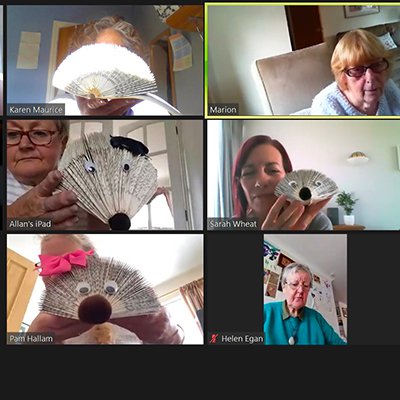 Creativeness is a huge part of Barbara Jones' relationship with God. In response to this and as part of her discernment journey she started a craft group in Gwersyllt near Wrexham with a difference. Crafty Angels is a craft session with a focus on prayer, reflection, and praise. It is reaching out into the community and connecting with people in new ways.
The first Crafty Angels event took place in January and by February word had spread and numbers attending had tripled. Then, Coronvirus struck and Barbara, who is profoundly deaf, had to think how her fledgling group could continue.
"As a church we were already meeting on Zoom, so I looked at the feasibility of running Crafty Angels, virtually," said Barbara. "It required more preparation to get the craft materials together and delivered to everyone but in May we held our first virtual craft session on Zoom. The theme was butterflies. Cards with a butterfly theme were created and there was a reflection on butterflies. It was a great success, and everyone went away feeling uplifted in those hard times."
Not only was the distribution of the materials more of a challenge during lockdown but the use of Zoom was a major hurdle for Barbara too. "I have a severe to profound hearing loss and rely on lip reading to communicate. The introduction of Zoom proved a challenge especially when following what everyone says!
"It is important that people are aware that I have a hearing loss and that everyone is clear, in good lighting, with their faces and particularly their lips visible when we are on Zoom. It has been a test at times to follow people, but everyone is very understanding."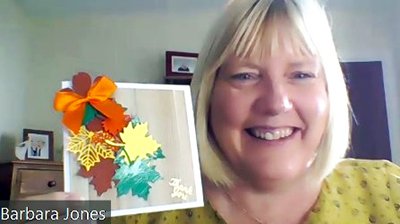 Having mastered Zoom for Crafty Angels, Barbara realised that the group was a lifeline to both herself and those attending. "In the early weeks of the Coronavirus lockdown, I was feeling quite bereft that I couldn't get out and about and 'do my bit' to help people due to the restrictions.
"I felt quite inadequate at times and as if a huge part of my life had been taken away from me. I am a naturally busy person involved in Guiding, church, craft groups and socialising with friends and family so I felt quite useless!
"When I saw the opportunity to reach out and help doing the craft group on Zoom it gave me a lifeline and a purpose in life again. I found in the months that followed how much it benefitted members of the group, as well as myself. It is certainly a shared experience that is uplifting everyone, and God was and is at the centre of this time."
In June Crafty Angels made mosaic coasters and created another card to add to their collection. Barbara described a mosaic as a metaphor for our lives. In her meditation she said, "As we look over the course of our lives, there may be sharp pieces, broken pieces, bright and shiny pieces, and good pieces. Up close we might not see the pattern and the direction but as we step back and look from a distance, we can see how the pieces of beauty and brokenness weave together."
Barbara is planning two sessions before Christmas. The first is on the theme of light in our darkness. The Crafty Angels will be making lanterns for a Zoom Carol Service and they will be making an advent wreath to be used at home as part of an Advent Study group. The
second session will be about preparing for Christmas, making a Christmas tree decoration, an angel charm and a card.
When restrictions are lifted in the future, Barbara is look forward to meeting again face-to-face and building up the group. In the meantime, Crafty Angels is an opportunity to reach out to people in our church and in our community, who feel isolated and alone and to offer them a different focus. "As individuals we may struggle, she says, "but as we come together as one we make God visible and tangible to all in our church and community."
For further information about Crafty Angels, please email the Engagement Officer for the Diocese of St Asaph, Sarah Wheat: Sarahwheat@cinw.org.uk
Volunteer, Serve, Participate
All of us can be torch-bearers. We can carry the light through volunteering, serving and participating. To find out what you can do for your local community, complete the volunteer form with your details and we will put you in touch with someone who can guide you.
Volunteer Form