Amanda Dore, volunteer church steward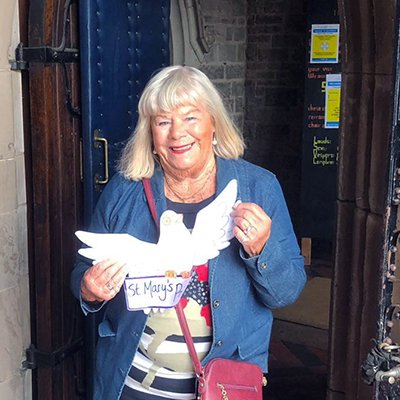 When churches were allowed to reopen for private prayer in July after being closed for five months many faced a significant practical problem. In order to re-open, they needed volunteers to welcome visitors and ensure their safety while they were in the building. But with average congregations becoming increasing elderly, many volunteers were shielding and unable to help out.
Not so Amanda Dore. Despite being 86, she felt fit and well enough to volunteer as a steward so that her church, St Mary's Priory in Abergavenny, could be one of the first in Wales to re-open.
Amanda has been a stalwart member of the congregation at St Mary's for the past 15 years, serving as head steward and secretary of the Mothers Union. Before lockdown she volunteered three or four times a week as a welcomer and tour guide for the many visitors and school groups who came to visit the historic church in the heart of the market town. Now with fewer people visiting because of the pandemic, her hours have dropped from about 16 a week to four.
"It has been increasingly difficult to find volunteers for us to stay open," says Amanda, who is originally from Florida. "But I feel well enough and observe the rules. Age to me is a number – it is in your mind. I don't feel old and if God wants me he knows where I am!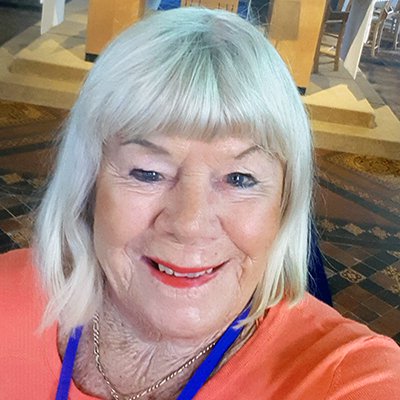 "For me, church has always been a place to go that is comforting. It is peaceful and somewhere where I can have a chat with God. It is important to me but I know it is important to other people too, particularly at uncertain times like now. They come here when they are troubled or in trouble, or feeling down. They know they can just sit down quietly, perhaps light a candle, say a prayer or have a friendly chat and they leave feeling better. Sometimes people who are homeless call in and shelter for a while.
"The church is also important to people who don't use it very much. They expect it to be there for when they do need it – for their baptisms, weddings and funerals and when they need help - and they would make a huge fuss it if wasn't. It is part of the town's identity."
During the months when all churches had to be closed, Amanda was one of the many people who turned to church online – watching and participating in services live-streamed and recorded from St Mary's Church on her smartphone.
"We had a virtual service on Sundays which I took part in. I read a lesson from my garden on a beautiful sunny afternoon. I found this to be serene and peaceful. But I can't wait to get back to normal.
"This pandemic has not shaken my faith at all – I have been through too much in my life for that! Even if I had no one else to talk to I have Jesus and that is good enough for me!"
Volunteer, Serve, Participate
All of us can be torch-bearers. We can carry the light through volunteering, serving and participating. To find out what you can do for your local community, complete the volunteer form with your details and we will put you in touch with someone who can guide you.
Volunteer Form