Aimee Powell CARE project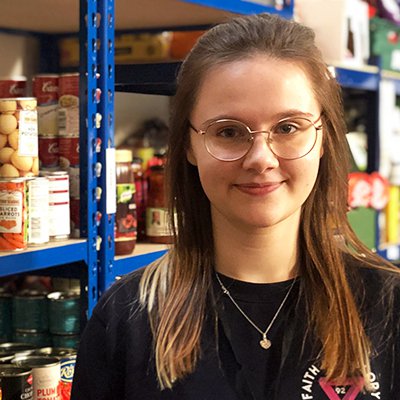 From delivering food parcels and prescriptions to keeping in contact with people over the phone, many parishioners acted quickly to put their faith into practical action when the COVID national lockdown began in March. One church responded by setting up an emergency project called CARE.
The CARE project is run by the Bedwas, Machen, Michaelston-y-Fedw and Rudry (BMMR) Parish Trust. It was set up within days of the lockdown announcement by the Rector, Dean Aaron Roberts, and very quickly more than 150 volunteers had been recruited. Today CARE has helped more than 6,000 people and employs four members of staff. It provides five main services: essential food and non-food parcels, prescription collection and delivery, Click and Collect delivery, telephone befriending services and pastoral care.
Aimee Powell works full-time as the project's Community Worker. She says, "Operating in an area with high poverty and unemployment, we are helping many different families each week not have to worry where their next meal is coming from.
"Our demand was at its peak in May, and has gradually decreased as lockdown has eased, but even at our quietest, we helped more than 700 people in the space of one month. We saw an increase again in October as we went into a firebreak lockdown and many local county lockdowns in the area. Unemployment, benefit changes/delays and low income/wages continue to be our main reasons for food parcel requests, which ties in with the county statistics of 19.1% of households in Caerphilly County Borough being workless. We expect that this demand will only go up as furlough ends and businesses close and we are preparing for this increase in demand in the best ways we can."
The project plans to expand in the coming months to help the community in other ways, says Aimee.
"In our food hub, we have lots of leftover bread and other fresh fruit and vegetables. We plan to take this waste and use it in a portable café in a horse trailer. We also plan to use this as a way to educate people on how to make healthy meals for themselves, as many of our service users aren't sure how to prepare a lot of the food we give them in their parcels. This trailer would be a great thing for the community, enabling people not to have to go far from the house to have a cup of tea and some food and a chat. We hope it will help tackle loneliness, especially with the older generations who may be reluctant to go far from the house. All this has inspired us to call our new project, Caffi Caredig – Kind Café."
Central to CARE's work is its team of volunteers.
"We have a dedicated, wonderful team of over 160 volunteers, who are invaluable to us and keep the project running," says Aimee. "There is an incredible amount of work that goes into a food parcel. From the organising and collecting of leftover food from shops at every hour of the day, the food gets taken back to the hub and clocked in. Our volunteers take and process the requests for food parcels and confirm delivery. The hub opens three days a week and our packers pack all the parcels, ready for the drivers and their assistants to deliver them to people's homes. We really couldn't do this without our great team of volunteers – I cannot express how much their generosity is benefiting the community."
For Aimee, the work she does comes from the heart of her Christian faith.
Two Bible verses inspire her:
Isaiah 58:10 "Feed the hungry, and help those in trouble. Then your light will shine out from the darkness, and the darkness around you will be as bright as noon."
Matthew 10:5-8 "Freely you have received; freely give."
"It is necessary for us, as Christians, to give back to our community and help those in need. It is something that God calls us to do," says Aimee. "Personally, I feel so blessed to be able to utilise the skills I have to fulfil God's commands, and one of the best parts of my job is talking to service users who explain how grateful they are for our help. It is a true blessing to be able to give, and everyone who is in the position to give, should. You don't have to be rich to be generous – some of our volunteers are current service users – you can give your time to a local charity or cause and that is just as important. There are so many ways you can live out God's word and be selfless and giving, and at this time when we turn our minds and hearts to remember once again the One who gave everything and humbled himself to become one of us, Advent is a great time to start."
Donate to CARE or find out more: www.theparishtrust.org.uk/care
Volunteer, Serve, Participate
All of us can be torch-bearers. We can carry the light through volunteering, serving and participating. To find out what you can do for your local community, complete the volunteer form with your details and we will put you in touch with someone who can guide you.
Volunteer Form